The Australian's Apartheid Cloud
May 7, 2012 13:05 by Simon Plosker
The Australian's headline reads: "Living under a residency cloud in Israel" (subscription only – full article reproduced here) But this is no fluffy, benign cloud. For the original headline, as captured by Google's cache before complaints presumably forced The Australian to amend it, was: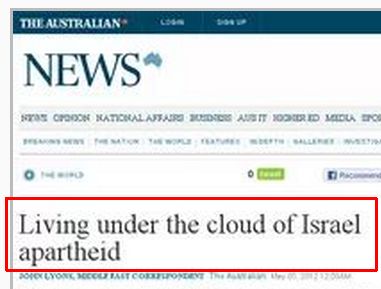 The use of the term "apartheid" can only mean one thing – an Israel governed by racial discrimination – a term used to delegitimize Israel by comparing it to the former apartheid South African regime.
This is what John Lyons' article does by focusing on the difficulties faced by Arab citizens of Israel who choose to marry residents of the Palestinian territories.
A professional journalist would note that Israel's Citizenship Law is not a matter of consensus, even amongst Israel's High Court of Justice and try to balance an article by using sensible representatives from both sides of the issue. Instead, Lyons hones in on extremist and inflammatory language:
"We feel like half-humans," Taiseer Khatib told visiting journalists this week. "Any immigrant who is coming to Israel from Ethiopia or Russia who is new to this city, the minute he puts his feet down at the airport, he has more rights than I have. I'm talking pure racism, which is beyond apartheid. Under apartheid, there were cases where people were allowed to have mixed marriages but she (Lana) is part of me and the state is interfering in my personal choices, getting into my bed, my own room."
In fact, any immigrant from Ethiopia or Russia would have the same rights as Taiseer Khatib, who is an Israeli citizen. And just like Khatib, any immigrant from Ethiopia or Russia would also have the same difficulties marrying a resident of the Palestinian territories.
As for Khatib's charge of apartheid . . . 
Source material can be found at this site.