Ardent Zionists v Enlightened Jews: An Assault on British Jewry
May 14, 2012 12:06 by Simon Plosker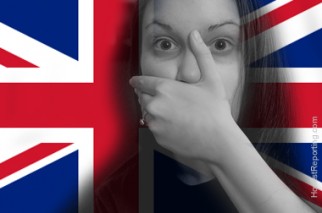 Yasmin Alibhai-Brown has been critiqued regularly by HonestReporting over the years. The Independent columnist has a particularly vicious streak when it comes to Israel, which she routinely describes as a "racist" and "apartheid" state. Indeed, she has a propensity to view many issues through the framework of race.
In her latest op-ed, Yasmin Alibhai-Brown:
Accuses Israel of charging its critics with anti-Semitism to shut down legitimate criticism.
Fails to acknowledge that hunger striking Palestinian prisoners may have been detained for legitimate reasons, including terrorism.
Portrays the majority of Israel-supporting British Jews as being "instructed to hate" Palestinians and lacking in integrity.
Read on to find out how you can take action.
In her latest polemic, Alibhai-Brown addresses the issue of Palestinian hunger strikers and administrative detention. To be sure, the topic is not a comfortable one and a healthy debate, as also occurs within Israel itself, is perfectly legitimate. But to Alibhai-Brown, referring to "hardline Israelis":
Their country is protected from censure partly because of fears that any criticism of its actions is potentially "anti-Semitic". Some anti-Semites do use Israel as a cover, but then Israel uses that fact to tar and warn all legitimate criticism. Its governments do what they damn-well want and claim perpetual exceptionality. Their darkest deeds are thus left unscrutinised.
We challenge Alibhai-Brown to furnish us with the evidence that Israel's supporters use an "anti-Semitism card" to shut down all legitimate criticism. This is patently untrue and Alibhai-Brown's charge is more commonly employed as a means to delegitimize the rights of Israel's supporters to advocate for or defend Israel from criticism. As for the claim that Israel is beyond scrutiny, the amount of stories published on the Palestinian hunger strikers alone, not to mention the constant focus of the media and world on this part of the world, make this claim laughable.
If Alibhai-Brown were interested in a proper and balanced debate on the issue, perhaps she would have cared to mention the fact that those hunger strikers in her op-ed are members of Islamic Jihad, a vicious terrorist organization dedicated to the destruction of Israel and the murder of Jews. But no. To Alibhai-Brown:
The detained Palestinians are embarked on peaceful, Gandhian protest action.
Referring to Palestinian prisoners, Alibhai-Brown states:
 To be a Palestinian, to want equality, rights, freedom and land is not a crime. Except that for hardline Israelis, it is.
Palestinian prisoners are not detained for seeking peace. Israel is not a sinister police state that arrests Palestinians for expressing legitimate aspirations. Israel takes appropriate action against those who carry out, advocate or incite terrorism or violence. Islamic Jihad is not an organization with legitimate political aspirations – its sole raison d'etre is to carry out acts of terror.
Alibhai-Brown is fond of noting that she has many Jewish friends, although these friends are invariably critical of Israel. Indeed, Alibhai-Brown likes to differentiate between "good Jews" and "bad Jews":
The moralistic Chief Rabbi will not be on "Thought for the Day" expressing sorrow for the treatment of these prisoners. Ardent British Zionists will not be pressed to condemn those responsible for the state barbarism.
Who exactly are these "ardent British Zionists"?
Source material can be found at this site.