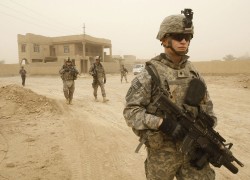 This year's National Memorial Day Parade in Washington, D.C., will have a special focus on Iraq veterans—and a way to participate if you can't make it to the capital.
Following the formal end of the Iraq war last year, the American Veterans Center (AVC), which organizes the parade, is partnering with the Iraq and Afghanistan Veterans of America (IAVA) to make sure men and women are welcomed home.
"With troops still deployed in harm's way, it is imperative that we show our support and gratitude as a nation," said James C. Roberts, president of the AVC. "As a Vietnam veteran myself, I saw firsthand the way my comrades were treated, and my reaction was, 'Never again.'  The veterans of the Iraq war deserve an expression of gratitude from the American people."
If you can't make it to Washington on Memorial Day, you can "march" online through Virtual Boots on the Ground. You can log in with your email or through Facebook to show support for the troops, whether you are a veteran or a civilian.
Jason Hansman, membership director for IAVA, said his organization hopes to reach out to Iraq veterans who might not be aware of the resources available to them. IAVA organizes community activities and help for transitioning back into life in the States—including finding jobs. It offers help with resume writing and interviewing and connects vets with employers who have openings.
"It's not just about the parade—it's about what happens after the parade," said Hansman, who served in Iraq from 2004–2005.
Hansman said for many Iraq vets, this recognition feels a little overdue. New York City hasn't given a traditional ticker-tape homecoming parade, as troops are still fighting in Afghanistan.
"Being able to walk down Constitution Avenue with fellow Iraq vets—after we're done with this conflict—that means a lot," Hansman said.
The nationally televised parade, which begins at 2 p.m. ET on May 28, has been organized by the AVC since 2005. Sponsors include Boeing, the Association of American Railroads, Geico, and American Airlines.
You can also watch the parade live online at Virtual Boots on the Ground.
Source material can be found at this site.