Is Hamas Interfering In Egyptian Elections?
June 17, 2012 15:11 by Pesach Benson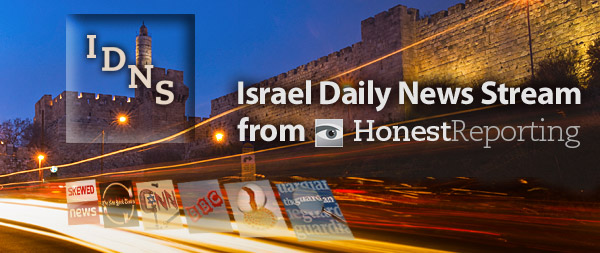 Everything you need to know about the weekend coverage of Israel and the Mideast. Join the Israel Daily News Stream on Facebook.
Today's Top Stories:
1. Hamas is accused of planning terror attacks to influence the Egyptian elections. Haaretz reports that Egyptian security busted a group of 22 Palestinians, Syrians and Jordanians. Haaretz also reported that Israeli security officials link Hamas and the Muslim Brotherhood to rockets that landed in Mitzpe Ramon and the Ovda area.
According to these officials, the rockets were launched from the Sinai Peninsula by a Bedouin unit, according to Hamas orders, even though Hamas itself wasn't the initiator of the launching, but responded to the request of the Brotherhood, who wanted such an event on the eve of the second round of presidential elections in Egypt. It is yet unclear why the Brotherhood requested such an unusual action, a first military strike against Israel, or whether the strike was aimed at specific sites in the area.
Hamas denies the charge, but Maan News's background has to make you wonder.
2. At least 16 Palestinians are sitting in PA prison for selling property to Jews, and nine of them face the death penalty. Even more explosively, several non-governmental organizations appear to be complicit in the hunt for the "traitors." Aaron Klein (via Elder of Ziyon) reports:
The PA sources told KleinOnline that the Palestinian government recently formed a unit with a $2.7 million yearly budget to investigate property sales to Jews as well as any Jewish communities, outposts or military bases that may be sitting on Arab-owned land. The unit works with nongovernmental organizations, including European-funded NGOs.
The number of Palestinians imprisoned for land sales to Jews is much larger than previous reported . . . .
Over the years, scores of Palestinians have been put to death in judicial and extrajudicial killings after being accused of land sales to Jews.
Imagine the outrage if A) Israel did this B) with help from NGOs C) funded by European countries that oppose capital punishment.
The silence from Jerusalem over the past 15 months of Syrian conflict . . . was part of Israel's closely adhered-to government policy aimed at preventing the Assad regime from delegitimizing its opponents by portraying their struggle as a foreign conspiracy. The decision to break that silence over the weekend was also carefully strategized—both in timing and in nature.
In condemning Assad's regime, the Israelis appealed directly to the hearts and minds of the Sunni-Arab world at a time when both find themselves pitted against a common enemy: Mr. Assad. Accusations of Iranian involvement in Syria are meant to remind Mr. Assad's opponents in the Gulf that Israel stands on their side in the struggle against Shia regional domination.
The recent appointment of Syrian-Kurdish activist Abdelbasset Sida to head the main opposition group in exile, the Syrian National Council, now presents Jerusalem with an opportunity to express tacit support for a possible successor to Mr. Assad.
Israel and the Palestinians
• Two Palestinians trying to rob an Israeli truck driver were shot and killed. YNet says the army's investigating the possibility that this was an attempted kidnapping.
• Open Zion blogger Emily Hauser's no longer enamored with the two-state solution, but she's honest enough to admit that a one-state solution is out of step with both Israelis and Palestinians:
Thus, I would submit that it is an unconscionable waste of our little remaining energy and too-few resources to try to organize people where we want them to be—like all people, Israelis and Palestinians can only be organized where they actually are. No matter how we might feel about where they are.
If we don't create the context in which the folks actually living with this conflict can begin to heal and realize their very real, self-expressed dreams, I fear the sheer, unmitigated pain and misery they will wind up inflicting on each other. I fear flat-out catastrophe, yet another great disaster for both the Jewish and Palestinian peoples.
And so, I'm sticking with (am stuck with) advocating for the imperfect idea of building two separate states. To my mind, it's the only option that has any chance of both being realized, and doing more good than harm.
• What's a Hamas lawmaker in Gaza doing with a gold Porsche? It's a "Life of Luxury in the World's Largest Concentration Camp."
• In a Washington Post QA, Shimon Peres discusses the Arab Spring, Iran and the Mideast peace process.
• The BBC waffled on Roger Garaudy's obituary: Was the Frenchman a "Holocaust denier" or "philosopher," and what this say about the Beeb itself? My colleague Simon Plosker comments with all the necessary screengrabs.
• AFP updates the PLO push for full representation as a state at the upcoming Rio +20 summit.
• Vladimir Putin's visiting the Holy Land in a few days. The Media Line notes:
"Russian allies in Arab world are disappearing from the stage. Palestinian leadership is almost the only remaining one, so it is a good opportunity to refresh some ties with Arab countries and show that Russia cares about Arab issue," Lukyanov added.
Source material can be found at this site.