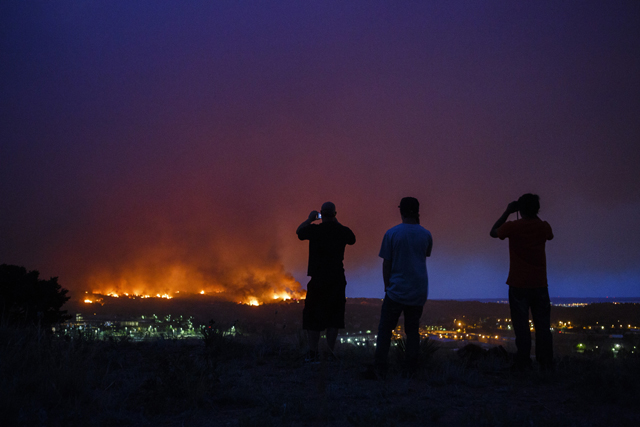 An Obama administration decision to cancel a government contract for aerial firefighting planes in 2011 has left the U.S. Forest Service's airborne fleet depleted as rapidly moving wildfires spread throughout the state of Colorado and elsewhere in the country amid excessive heat and extremely dry weather conditions.
The reduction in the number of planes—from more than 40 to just 11—ended a 50-year relationship between the Forest Service and Aero Union, which provided the planes, and 60 jobs, fighting fires. The Forest Service cited an airworthiness inspection program as one reason for terminating the contract, despite the company's insistence that it had passed its annual inspection.
"Our main priority is protecting and saving lives, and we can't in good conscience maintain an aviation contract where we feel lives may be put at risk due to inadequate safety practices," said one Forest Service official.
A pair of tanker crashes, including one earlier this month, has further reduced the number of immediately available aircraft to just nine.
Calls for a review of Forest Service planning related to the nation's aging and inadequate fleet came from four lawmakers in a letter sent in March 2012 by Sens. Ron Wyden (D-OR), Jeff Bingaman (D-NM), Lisa Murkowski (R-AK) and Dianne Feinstein (D-CA) to the Government Accountability Office.
Speeding up the agency's slow-moving long-term strategy process would be necessary should another record-breaking year of wildfires strike in 2012, the Washington Post noted as early as February, but the push to replace the entire fleet of large aircraft has stretched out over at least a decade.
Air tanker crashes in 2002, including one in Colorado, put pressure on the Forest Service to weed out many dilapidated planes, including converted tankers from the 1940s and 1950s that were showing signs of excessive wear from the demanding stress of fighting fires. Tankers across the country were grounded temporarily as a precaution following the crash.
The Forest Service's own estimates call for as many as 18-28 "next generation" large air tankers to meet the nation's firefighting requirements. As a stopgap, the Forest Service has tapped into preexisting arrangements with the state of Alaska, the Canadian Interagency Forest Fire Centre, and the military to deploy an additional 16 large air tankers.
But recent news from the Forest Service announcing plans for seven new firefighting aircraft from contracts awarded to four different firms will not provide immediate relief, as only three tankers will be available this year (but not, perhaps, for several months), and the remaining four will be delivered in 2013.
Source material can be found at this site.