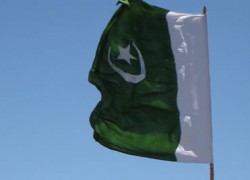 Last month, the Republican Study Committee recommended that Congress consider attaching more stringent counterterrorism conditions on U.S. aid to Pakistan.
Citing new evidence about the potential involvement of Pakistani intelligence officials in the November 2008 terrorist attacks in Mumbai and Pakistan's refusal to take action against the Haqqani network, the memo suggests requiring the Pakistan government to confront terrorism within its own intelligence ranks, take tangible actions against the Haqqani network, and act against the network that shielded Osama bin Laden at his hideout in Abbottabad.
The Enhanced Partnership with Pakistan Act of 2009 prohibits security aid to Pakistan until the Secretary of State certifies that Pakistan has, among other things, "demonstrated a sustained commitment to and is making significant efforts towards combating terrorist groups." U.S. Secretary of State Hillary Clinton certified that Pakistan had met these conditions on March 18, 2011. Ironically, the certification came only weeks before the U.S. raided bin Laden's Pakistan compound—an operation that required Pakistani officials to be kept completely in the dark so as not to jeopardize the odds of success.
New conditions on aid to Pakistan may not convince the Pakistani military and intelligence leadership to take additional steps against other terrorist groups residing in Pakistan, namely the Lashkar-e-Tayyiba (LeT) and Haqqani network, or provide the U.S. assistance in tracking individuals that facilitated bin Laden's lengthy stay in Pakistan. And this is precisely the argument that most opponents of conditioning aid to Pakistan continually make.
However, Congress is under obligation to ensure that U.S. foreign aid is consistent with U.S. foreign policy objectives and vital national security interests. The U.S. cannot justify continuing to provide aid to a foreign government that refuses to act against enemies of the U.S. within its borders or against individuals responsible for terrorist acts, especially when those acts involve U.S. victims, as in the 2008 Mumbai attacks.
Administration officials and most Members of Congress on both sides of the aisle sincerely desire better relations with and a better future for Pakistan. Yet they cannot deny the reality that terrorist sanctuaries inside Pakistan are jeopardizing everything the U.S. has fought for and sacrificed in Afghanistan since 9/11.
There has been a tremendous loss of confidence in the relationship following the bin Laden raid. While there is no evidence that senior Pakistani officials knew about bin Laden's presence, Members of Congress are angry that Pakistan has focused more attention on punishing individuals who helped track the world's most wanted terrorist, such as Dr. Shakil Afridi, than in finding and punishing those who helped shelter bin Laden all those years.
The U.S. is not calling on Pakistan to crack down more comprehensively on terrorist sanctuaries purely for its own benefit. U.S. officials have repeatedly expressed their belief that such a crackdown would benefit Pakistan's own future. Pakistani officials argue that they don't have the capacity to deal with these groups in a comprehensive and consistent way. But this argument rings hollow when terrorist leader and LeT founder Hafiz Muhammed Sayeed roams the country freely making speeches and raising funding for his LeT front organization.
Defense Secretary Leon Panetta recently suggested to Congress that they condition, rather than cut, aid to Pakistan. This gives Pakistan's leadership more time to contemplate their current path and adjust their policies toward terrorist groups like the LeT and the Haqqani network. There is still time for Pakistan to change course, but the clock is ticking.
Source material can be found at this site.