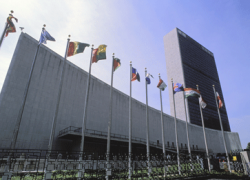 After the Palestinian fireworks of the first two days, the third day of the U.N.'s Arms Trade Treaty conference started slowly, with a series of national statements.
None was without interest. What comes through loud and clear is that what the African nations, in particular, want is a treaty that will give them lots of money to assist in treaty implementation and not restrict their ability to acquire advanced technology, while the Europeans talk about human rights criteria—but none was surprising.
Then things got interesting. Ambassador Roberto Garcia Moritán, the conference president, outlined an organizational approach for the conference that involved splitting into two sub-committees to consider different parts of the treaty.
Immediately, the objections from the International League of Supervillains came fast and furious: from Iran (which complained about visa issues and opposed having meetings in parallel), Algeria (which argued that the purpose of the treaty was unclear and could not understand why so many draft treaty texts were circulating), Cuba (which wanted agreement on treaty objectives but objected to having any meetings in parallel), and Syria (which, in distracted and rambling remarks, said the same thing).
Moritán tried to employ his folksy style to pour oil on the waters and repeatedly sought agreement to his proposal, but the Supervillains were having none of it. Iran came back immediately, objecting again to parallel meetings, as did North Korea and Cuba, the latter of which made a formal objection to Moritán's proposal.
The only intervention that was not obviously intended to be destructive came from Colombia, which asked questions about the agenda that Moritán was not able to answer. By the time the conference broke for lunch, well after 1 pm, a procedural deadlock loomed again.
It's never easy to figure out why bad regimes do what they do. But three possibilities—not mutually exclusive—loom large.
First, the Supervillains are obstructive on principle: It's just what they do. Second, they are playing to the gallery of small nations, which object to parallel meetings because this spreads their already small delegations even thinner. And third, the Supervillains have no interest in any treaty that might obstruct their dirty work.
In practice, no U.N. treaty is likely to do that, but given the astonishing scope of the treaty—under which virtually any piece of technology could potentially be classified as military—they have no idea what they might be signing on to. Their goal isn't necessarily to stop the treaty; it's to make sure it won't work. This being the U.N., they are quite likely to get their way.
To an American, the remarkable thing about the entire meeting is quite simple. It's not just that Iran, Cuba, Syria, and North Korea are treated at the U.N. as the equals of the U.S., Canada, or Finland; it's that they're allowed to be here at all and that their words are not laughed out of the conference by all present.
What kind of world is it where Syria isn't mocked for just being in the room when human rights are being discussed?
Source material can be found at this site.