Yasser Arafat was poisoned in 2004 with polonium 210, a dangerous radioactive substance, a Swiss laboratory concluded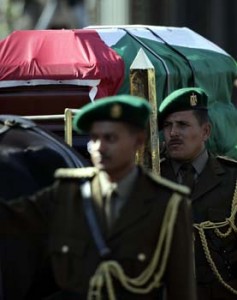 and Al Jazeera reported this week. Arafat's widow Suha, literally went through his clothes and underwear to find loose change to prove her husband was poisoned. Now she has called on the Palestinian Authority to exhume her husband's body from the mausoleum in Ramallah.
What is her motive? She told Al Jazeera she seeks to enhance Arafat's "great legacy. [This will] glorify more his legacy, will get people to go more into his footsteps, not giving up the land….But his legacy…will be more and more as a great leader from our century, one of the great leaders of all the world. This will intensify this down-to-earth, lovable, humble person."
Such a eulogy is surely expected from a wife who, according to some reports, absconded with hundreds of millions of dollars of aid money deposited in the Palestinian accounts to which she had signing powers.
But make no mistake. Yasser Arafat was a murderous, genocidal, diabolical, duplicitous sexual deviant who died at the age of 75. He was despised by Arab and Israeli alike. Syria's Hafez Assad tried to jail him. King Hussein of Jordan once said of Arafat, "He never came to a bridge he didn't double-cross." And Egypt's Hosni Mubarak considered him a cur.
On August 30, 1982, I we stood on the roof of a warehouse in Beirut port in a forward IDF position and watched the evacuation of Arafat and his fighters. Firing volleys of victory "fantasia" rounds into the air, the terrorists drove past US Marine sentries protecting their departure. From our perch, meter-long camera lenses recorded every face, so it's easy to believe the reports that Israeli snipers had Arafat in their cross-hairs. But Prime Minister Begin reportedly gave the order for the snipers to stand down. Over the years of intifadas and suicide bombings I often regretted his decision.
In the rogues gallery of the 21st Century, he certainly ranks with Osama Bin Laden for pure malevolence and blood thirst.
Lest we forget, the body lying in the elaborate Ramallah crypt belonged to an evil man who commanded brigades of terrorists that mowed down or blew up thousands of innocent civilians in Israel and across Europe. He ordered the murder of Israel's Olympic athletes in 1972. In 1973, he gave the orders to execute three diplomats (two American, one Belgian) in Khartoum, Sudan. He ordered the massacres of Christians in Lebanon. He mocked the United Nations when he showed up with a pistol on his hip in 1974. He embraced Ayatollah Khomeini and the Iranian revolution in 1979. And he was behind the massive arms smuggling attempt on board the Karin A in 2002.
When it came to the peace process, he spoke with a venomous forked tongue, beguiling gullible Westerners with promises of peace while inciting jihad against the Jews in his Arabic declarations. His promises to cancel the genocidal "Palestinian Charter" were never carried out.
I was in the auditorium in Cairo in 1994 when Arafat and Yitzhak Rabin were supposed to sign the Oslo II Accords under President Hosni Mubarak's sponsorship. Arafat pretended to put his signature on the document, but an observant Israeli team saw that he had faked it. "Ya kalb!" ("You dog"), Mubarak shouted, and he demanded that Arafat come back and sign.
The idea that clothing should be tested and considered as evidence when there's no clear, documented chain of custody. No court in the world would accept such evidence. For one polonium has a half-life of 138 days, "meaning that half of the substance decays roughly every four-and-a-half months." Yet, eight years after Arafat's death, the Swiss scientists reported finding polonium levels of 54mBq and 180mBq on his belonging, considered to be high levels.
The likelihood of Yasser Arafat having been poisoned by Israel using Polonium is virtually unprovable, but sure that's not what the Palestinians will claim. This will be used to stir up more Palestinian hated of Israel, what perfect timing with a new Fundamentalist Egypt next door (Arafat's homeland and birthplace).
Arafat's Resume:
-The PFLP gained notoriety in the late 1960s and early 1970s for a series of armed attacks and aircraft hijackings, including on non-Israeli targets:
-The hijacking of an El Al flight from Rome to Lod airport in Israel on 23 July 1968. The Western media reported that the flight was targeted because the PFLP believed Israeli general Yitzhak Rabin, who was Israeli ambassador to the USA, was on board. Several individuals involved with the hijacking, including Leila Khaled deny this. The plane was diverted to Algiers, where 21 passengers and 11 crew members were held for 39 days, until 31 August;
-Gunmen opened fire on an El Al passenger jet in Athens about to take off for New York on 26 December 1968, killing one Israeli mechanic;
-An attack on El Al passengers jet at Zürich airport on 18 February 1969, killing the co-pilot and wounding the pilot;
The bombing of a Jerusalem supermarket on 20 February 1969, killing two Israelis and wounding twenty others;
-The hijacking of a TWA flight from Los Angeles to Damascus on 29 August 1969 by a PFLP cell led by Leila Khaled, who became the PFLP's most famous recruit. Two Israeli passengers were held for 44 days;
-Three adult Palestinians and three boys aged 14 and 15 years old threw grenades at the Israeli embassies in The Hague, Bonn and the El Al office in Brussels on the same day, 9 September 1969 with no casualties;
-Attack on a bus containing El Al passengers at Munich airport, killing one passenger and wounding 11 on 10 February 1970;
-On 6 September 1970, the PFLP (including Leila Khaled) hijacked four passenger aircraft from Pan Am, TWA and Swissair on flights to New York from Brussels, Frankfurt and Zürich, and failed in an attempt to hijack an El Al aircraft which landed safely in London after one hijacker was killed and the other overpowered;
-on 9 September 1970, hijacked a BOAC flight from Bahrain to London via Beirut. The Pan Am flight was diverted to Cairo; the TWA, Swissair and BOAC flights were diverted to Dawson's Field in Zarqa, Jordan. The TWA, Swissair and BOAC aircraft were subsequently blown up by the PFLP
-on 12 September, in front of the world media, after all passengers had been taken off the planes. The event is significant, as it was cited as a reason for the Black September clashes between Palestinian and Jordanian forces.
-On 30 May 1972, 28 passengers were gunned down at Ben Gurion International Airport by members of the Japanese Red Army in collaboration with the PFLP in what became known as the Lod Airport massacre.
-On 13 October 1977, the PFLP hijacked Lufthansa flight LH181, a Boeing 737 flying from Palma de Mallorca to Frankfurt. After various stopovers the pilot was killed. The remaining passengers and crew were eventually rescued by German counter-terrorism special forces see Mogadishu hijacking.
-On 3 October 1980 four people were killed and dozens injured in the 1980 Paris synagogue bombing.
-On 12 April 1984 a bus from Tel Aviv was hijacked. Bassam Abu Sharif in Damascus issued a statement in the name of the PFLP claiming responsibility.
-The killing of Meir Lixenberg, councillor and head of security in four settlements, who was shot while travelling in his car in the West Bank on 27 August 2001. PFLP claimed that this was a retaliation for the killing of Abu Ali Mustafa.
-The 21 October 2001 assassination of Israeli Minister for Tourism Rehavam Zeevi by Hamdi Quran, the only Israeli politician to have been assassinated in the Second Intifada.
-A suicide bombing in a pizzeria in Karnei Shomron, on the West Bank on 16 February 2002, killing three Israeli civilians.
-A suicide bombing in Ariel on 7 March 2002, which left wounded but no fatalities.
-A suicide bombing in a Netanya market in Israel, on 19 May 2002, killing three Israelis. This attack was also claimed by Hamas, but the Abu Ali Mustafa Brigades have identified the perpetrator on their website as one of their members.
-A suicide bombing in the bus station at Geha Junction in Petah Tikva on 25 December 2003 which killed 4 Israelis.
-A suicide bombing in Bikat Hayerden on 22 May 2004, which left no fatalities.
-A suicide bombing in the Carmel Market in Tel Aviv on 1 November 2004, which killed 3 Israeli civilians
This list does not include the Liberation of Palestine suicide attacks