In a direct challenge to the Obama Administration, an Iranian military commander said that Iran has detailed plans to strike nearly three dozen U.S. military bases in the region should Iran be attacked for any reason, local media reported Wednesday.
Brig. Gen. Amir Ali Hajizadeh, the commander of the Islamic Revolutionary Guards Corps (IRGC) Aerospace Force, told reporters the U.S. has 35 bases around Iran and all are "within the reach of our missiles" and could be hit "in the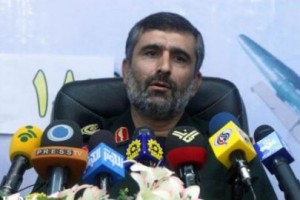 early minutes after an attack," according to an English-language report from Iran's semi-official Fars News Agency. He said the bases were no threat but instead an "opportunity" for the Iranian military, Hajizadeh said last month, according to Fars.
Hajizadeh's claims come as the IRGC conducts a major military exercise in which it has fired a barrage of missiles at "mock enemy bases" set up in the Iranian desert. Another IRGC commander, Brig. Gen. Hossein Salami, told reporters Tuesday the main aim of the drill "was to demonstrate the Iranian nation's political resolve to defend [its] vital values and its Islamic interests," according to Iran's state-run Press TV.
Press TV paraphrased Salami's description of the drills as a "firm response to those who threaten Iran with the option of military action."
The United States and Israel have for years been locked in a struggle with Iran over its nuclear enrichment program and the leaders of both the Israeli and American governments have said that any option — including military action — was "on the table".
Press TV said that several different missile types were tested, including the Shabab-3, which reportedly has an operational range of over 900 miles, meaning it could reach potential targets throughout the Middle East. The U.S. and its allies have several military bases in the region, including the home of the Navy's 5th Fleet in Bahrain, a little over 120 miles from Iran's southern border. Israel's eastern border is about 600 miles from Iran's mainland.
Another base used by the U.S., the United Arab Emirates' Al Dafra air base, lies less than 200 miles from Iran's southern coast. In April, multiple American next-generation F-22 stealth fighters were sent to Al Dafra but an Air Force spokesperson stressed at the time that the jets should not be seen as a threat to Iran. However, a top official for the jets' manufacturer, Lockheed Martin, told ABC News in April 2011 that the planes — which have never been used in combat — could find a home in quick strike missions in countries like Iran or North Korea.
Iran's new drills also coincided with fresh tensions that followed a new round of harsh sanctions against Iran that targeted the country's oil exports to Europe. Dozens of Iranian lawmakers have reportedly called on the Iranian military to shut down the Strait of Hormuz — a narrow, strategic waterway that connects the Persian Gulf to the Arabian Sea through which an estimated one-fifth of the world's oil travels. As an apparent precaution against such action, the U.S. has quietly been building up its military forces in the Persian Gulf.
The Department of Defense declined to comment on Hajizadeh's claims.