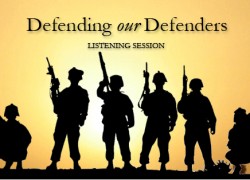 House Armed Services Committee member Randy Forbes (R–VA) continues to educate the general public about the potentially dangerous defense cuts mandated by sequestration under the Budget Control Act.
Following up on events in Virginia, California, and Florida, Forbes held a Defending Our Defenders meeting in Great Falls, Montana, on July 16. Additional events are planned for Fort Smith, Arkansas, and Warrensburg, Missouri.
The official host for the Montana event was Representative Denny Rehberg (R–MT). He opened with comments on how the cuts of nearly $500 billion to defense over the next 10 years (in addition to over $500 billion in cuts already designated) could affect the state of Montana. Forbes addressed the 200-plus person gathering on the more general detrimental effects of the cuts, explaining that the cuts are not based on any strategic analysis and were designed to be nothing more than a driving force for tax increases.
Heritage's James Carafano discussed the reality that the threats facing America have not lessened in today's strategic landscape and in fact may be greater due to their complexity and diversity. He went on to emphasize that the danger of the cuts to defense readiness was not hype and that this had nothing to do with politics, partisan or otherwise, but was simply bad policy.
Other local leaders made short statements about the changes that would come to the region if the cuts go into effect on January 2, 2013, as presently planned. The picture was not a rosy one.
Numerous citizens at the event expressed their concerns for both the local effects and the defense of the nation. They recognized that reductions in defense spending had to make sense, had to be well planned, and had to actually have the desired effect. It did not appear that any of those conditions had been met in the sequestration cuts.
The Defending Our Defenders program has had a greatly beneficial effect in educating the general public and building awareness on this misunderstood but very critical issue.
Source material can be found at this site.