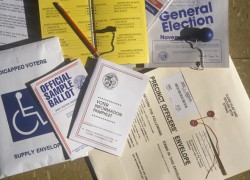 The Heritage Foundation and True the Vote, a nonpartisan grassroots organization in Houston, Texas, are sponsoring an important discussion on Thursday at 2:00 p.m. ET called "Ensuring Election Integrity: The Need for Election Reform." It will be streamed live online here.
Ensuring election integrity is a fundamental responsibility of government at all levels. States have primary responsibility for administering elections, including federal elections, but federal law supplements state law to prohibit discrimination, prevent noncitizens from voting, require states to clean up their voting rolls, and prevent vote dilution by those not lawfully eligible to vote.
However, the Department of Justice (DOJ), which has become more politicized under Eric Holder than at any time in recent history, has been working hard to prevent states from improving the security of the voter registration and election process in many respects. The Heritage Foundation and True the Vote will have a distinguished panel of experts to discuss current attempts to improve voter integrity and the impediments being encountered by election and other state officials. The panel will include:
Catherine Englebrecht, founder of True the Vote, which has implemented an innovative program to allow concerned citizens to check the accuracy and reliability of voter registration rolls and be trained as poll watchers.
The Honorable Artur Davis, former Democratic congressman from Alabama and a former member of the Congressional Black Caucus who has spoken out about the need for photo ID to protect voters, particularly those in poor and African American communities.
The Honorable Alan Wilson, attorney general of South Carolina, who is in a litigation fight with the Holder DOJ over its false claims that the state's new voter ID law is discriminatory.
The Honorable Scott Gessler, secretary of state of Colorado, who has been attempting to verify the citizenship of registered voters and get the Department of Homeland Security (DHS) to comply with federal law, which mandates state access to DHS citizenship information. He has already found hundreds of individuals who, although registered to vote, admitted that they were not citizens.
The Honorable Kris Kobach, secretary of state of Kansas, who helped draft and sponsor a new election reform law in Kansas that requires photo ID for in-person and absentee voting, as well as proof of citizenship to register to vote. My paper highlighting the success of his effort has just been released by Heritage.
This will be a critical discussion about the administration of the upcoming election and the problems faced by those interested in secure and fair elections. We hope everyone can either join us in person tomorrow at Heritage or tune in on our live feed.
Hans A. von Spakovsky is a Senior Legal Fellow at The Heritage Foundation and the co-author (with John Fund) of Who's Counting? How Fraudsters and Bureaucrats Put Your Vote at Risk (Encounter Books, August 2012).
Source material can be found at this site.