Sen. Sessions hosted a press conference today with top officials from two unions that represent U.S. immigration law enforcement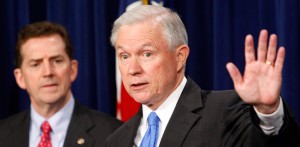 agencies.
ICE agent Chris Crane is President of the National Immigration and Customs Enforcement Council, the union representing America's more than 7,000 ICE agents and personnel. Border Patrol agent George McCubbin, III is President of the National Border Patrol Council, the union representing America's more than 17,000 border agents and personnel.
From Sen. Sessions' remarks:
"The Administration claims it has diligently enforced immigration law and that the border is 'more secure than ever.' But those on the front lines know this to be untrue. They see the violence, chaos and lawlessness. They have lost confidence in the leadership of their agencies…
As you will hear today, this administration has engaged in a sustained, relentless effort to undermine America's immigration laws. They have handcuffed and muffled those charged with protecting the public safety and the integrity of our borders. Such action has not only weakened our security but our democracy..
[youtube Xb2_3R6oHSQ nolink]