The Obama Administration refused to name the capital of Israel today – not once, but twice – as the two most senior White House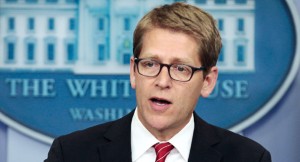 correspondents cornered Obama's press secretary, doggedly questioning him on whether the Obama administration considered Jerusalem or Tel Aviv to be the capital of the Jewish state.
White House press secretary Jay Carney publicly snubbed Connie Lawn of USA Radio Network and WND's Les Kinsolving as they questioned him.
The exchange began with a question from Lawn, the most senior reporter on the beat.
The White House transcript reveals the exchange went like this:
CARNEY: Yes, Connie.
Q. What city does this administration consider to be the capital of Israel – Jerusalem or Tel Aviv?
CARNEY: I haven't had that question in a while. Our position has not changed, Connie.
Q. What is the position? What's the capital?
CARNEY: You know our position.
Q. I don't.
Q. (Kinsolving joins.) No, no, she doesn't know. She doesn't know. That's why she asked.
CARNEY: She does know –
Q. I don't.
Q. (Kinsolving) She does not know. She just said she doesn't know. I don't know.
CARNEY: We have long – Les, I call on Christi. Go ahead.
Q. Back on the question of gun violence. Why did the president wait? What's the reason for the venue and the timing of those remarks?
CARNEY: The remarks last night? Well, it was a very appropriate venue – it was the Urban League Conference. He talked about a number of issues, especially the economy, as well as the problem of violence in urban communities.
Q. But those were his most extensive and impassioned remarks, and I just wondered if he's planning to do that in a more noticeable venue at a more noticeable time.
CARNEY:You mean a speech in front of a vast audience with television cameras is not more noticeable?
Q. Late at night, it was five days later –
CARNEY: Well, we didn't schedule – we didn't organize the conference. It was a very appropriate place to have that conversation.
Q. (Kinsolving) Tel Aviv or Jerusalem?
CARNEY: You know the answer.
Q. Yes.
Q. (Kinsolving) No, I don't know the answer. We don't know the answer. Could you just give us an answer? What do you recognize – what does –
CARNEY: Our position hasn't changed, Lester.
See Video:
[youtube dGEn1TZtEmQ nolink]