On Thursday, the House Energy and Commerce Committee released a bombshell report detailing its investigation into bankrupt solar company Solyndra.
Along with the report, the committee released a trove of emails between Solyndra stakeholders and administration officials. They paint a troubling picture of efforts to prop up the company despite its bleak economic outlook, and reactions to the company's eventual bankruptcy.
Scribe has compiled a list of the top 10 most revealing emails released as part of the investigation.
1. The White House Office of Management and Budget held that the Energy Department's decision to restructure Solyndra's loan was "a bad idea" and would result in greater taxpayer losses.
In March of 2011, DOE ignored the advice of White House budget officials and restructured Solyndra's federally-backed loan, giving private investors priority in the repayment of their investments. DOE insisted that this would produce the greatest returns for taxpayers, but OMB officials, in a series of emails earlier that year, pondered ways to demonstrate to DOE that restructuring the loan would be "a bad idea."
OMB analyst Kelly Coylar crunched the numbers, and found that DOE would lose about $141 million if it allowed Solyndra to go bankrupt and liquidated its assets. A restructuring agreement, on the other hand, could more than double taxpayer losses, she wrote.
2. White House Chief of Staff Bill Daley was briefed on Solyndra's troubles before the Energy Department restructured its loan.
The eventual restructuring agreement may have violated federal law, according to the Energy and Commerce Committee. It is of particular note, then, that then-White House Chief of Staff Bill Daley was briefed on the possibility of restructuring Solyndra's federally-backed loan before that decision was made.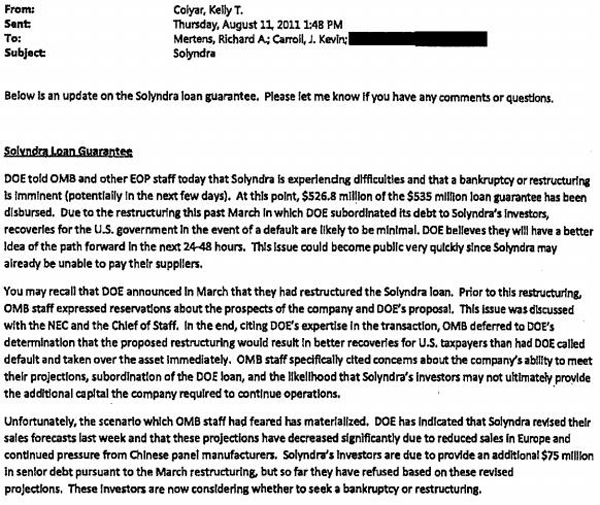 3. President Obama's Solyndra photo-op was then-CoS Rahm Emanuel's idea.
Emanuel has repeatedly said that he doesn't remember anything about the Solyndra loan guarantee process. This email shows that he was heavily involved in White House efforts to promote the loan guarantee, most notably by suggesting the president conduct a photo-op at the company's Fremont, CA headquarters.
4. Even Solyndra's investors knew that the company was a bad bet for taxpayers.
In an email to Lawrence Summers, then the chair of the White House's National Economic Council, Brad Jones, an advisor with Solyndra investor Redpoint Ventures, said that while the loan guarantee for Solyndra would prove beneficial for Redpoint, "I can't imagine it's a good way for the government to use taxpayer money."
5. Getting federal money was integral to Solyndra's business model.
"Getting business from Uncle Sam is a principal element of Solyndra's channel strategy," wrote Tom Baruch, founder of Solyndra investor CEMA Capital, in a August 10, 2010 email. When government takes it upon itself to pick winners and losers in the marketplace, securing government funds can be just as lucrative as conducting standard business activities, which inevitably directs more resources into unproductive political activities.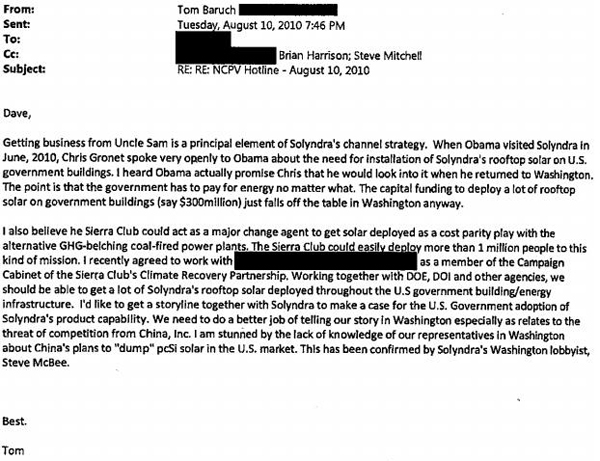 6. Solyndra's CEO referred to the federal government as the "Bank of Washington."
Solyndra was quite brazen about its government-centric business strategy, as this email from CEO Chris Gronet demonstrates.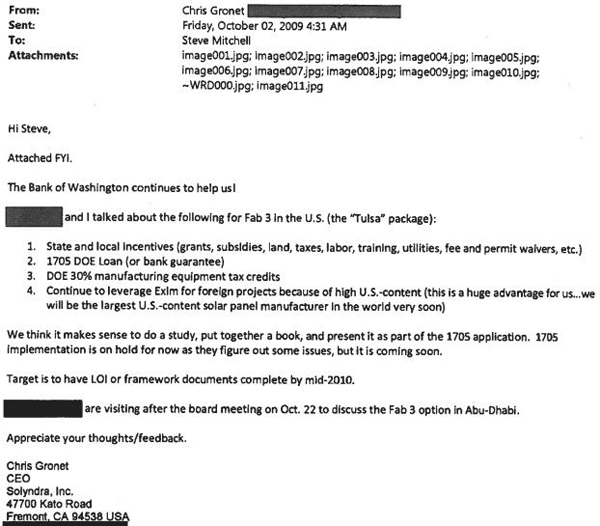 7. Solyndra was supposed to be a model of how government could empower the private sector.
In an email to White House communications staffer Dan Pfeiffer, Aditya Kumar, a senior advisor to the Vice President, said Solyndra exemplified an oft-repeated administration talking point on green energy "investment": "When Government Plays a Part, it can Bring the Private Sector Along."
Solyndra did bring the private sector along – all the way to its bankruptcy.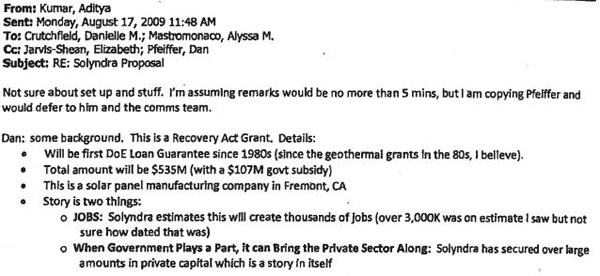 8. The White House and Vice President's office pressured DOE to move on the Solyndra loan guarantee, which in turn pressured OMB.
In an August 28, 2009 email to Coylar, DOE official Steve Spinner, who headed up the Department's Solyndra activities, said, "the OVP [Office of the Vice President] and WH [White House]" were "breathing down my neck" on the proposed Solyndra loan guarantee.
Spinner was trying to speed up OMB's analysis of the Solyndra project to fit with the White House's schedule, which had already set a date for the president's Solyndra photo-op. OMB would later confirm that it had rushed its Solyndra analysis under pressure from the White House.

9. Upon news of the bankruptcy, DOE admitted it had "a serious problem at Solyndra."
Despite numerous attempts since Solyndra's bankruptcy to downplay the scandal, emails exchanged upon news that the company would go under reveal that the DOE knew just how bad the bankruptcy was. "We have a serious problem at Solyndra," Susan Richardson, chief counsel of DOE's Loan Program's Office, wrote.

10. The White House's reaction to Solyndra's bankruptcy: "Ugh."
The White House also knew that Solyndra's bankruptcy posed a problem, as evinced by then-White House advisor Stephanie Cutter's reaction to the news – in one word: "ugh."
In an effort to downplay the scandal, Cutter has since insisted that Solyndra was "widely praised as successful and innovative."
Source material can be found at this site.