Here is a list of the worst attacks with the intent to inflict terror known to humanity. This list provides brief information about the most atrocious acts of terrorism. From bombings to mid-air plane bomb explosions, this list provides what sick humans can inflict upon their own due to a barbaric religion.
# 4 Deadliest Terrorist Attack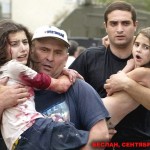 Date: 3rd September, 2004
Location: School Number One, Beslan, North Ossetia-Alania (Russia)
Casualties: 384 dead & 783 injured
Method: School Number One with 1,100 people with 777 children was taken hostage
Issue:
Withdrawal of Russian troops from Chechnya and independence for Chechnya.
Presence of the following people at the school: Aleksander Dzasokhov (president of North Ossetia), Murat Zyazikov (president of Ingushetia), Ruslan Aushev (former president of Ingushetia), Leonid Roshal (a pediatrician). Alternatively, instead of Roshal and Aushev, the hostage-takers might have named Vladimir Rushailo and Alu Alkhanov (pro-Moscow President of Chechnya).
Responsible: Islamic group sent by the Chechen warlord Shamil Basayev.
# 3 Deadliest Terrorist Attack
Date: 11 September, 2001
Location: World Trade Center, New York & Pentagon, Washington
Casualties: 2,998
Method: Two passenger jets intentionally crashed into the Twin Towers & one crashed into the Pentagon while a third crashed on ground
Issue: distaste for American Imperialism
Responsible: Islamist group Al-Qaeda led by Osama bin Laden.
Deadliest Terrorist Attack #2
Date: Late 1980s
Location: Palestine, Gaza, West Bank, Jordan
Casualties: 20,000
Method: Guerilla warfare, fidayeen, car bombs, military might,
Issue: Palestinian nationalism, Islamism, religious nationalism
Responsible: Islamic Radical group HAMAS
And the # 1 Deadliest Terrorist Attack in Human History Is
Date: 1980 – 2008
Location: Sri Lanka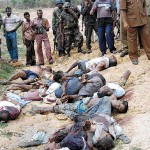 Causalities: over 60,000
Method: Guerilla warfare, Suicide bombings, car bombs, attacking troop convoy, killing whole villages
Issue: Separate state for Tamils & ousting Indian Tamils settled there
Responsible: Islamic Group Liberation of Tamil Tigers Eelam headed by V Prabhakaran
Check The 10 Deadliest Terrorist Attacks Here.