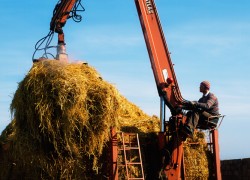 The Financial Times reports that "U.S. farmers are heading for their most profitable year on record despite the worst drought in half a century as high grain prices and payouts from a federal crop insurance program compensate for a smaller harvest."
Higher profits are great—when they come from real market demand. But farmers' profits are coming partly from government-directed schemes that have raised prices and partly from taxpayer-funded subsidies.
Government mandates for ethanol production have twisted the agriculture market. Farmers plant more corn because there is guaranteed demand for it, but this demand is created artificially by the government. Higher demand means higher prices—which hit consumers as well as other farmers, like those who raise livestock and buy corn feed. As a result, everyone's food prices are going up.
Then there's taxpayer-subsidized crop insurance, which the Financial Times notes could pay out $14 billion to farmers this year.
As Heritage's Romina Boccia explains:
This lavish subsidy encourages farmers to over-insure and take excessive risks at taxpayers' expense. In fact, when disaster strikes and crop prices rise as a result, those farmers whose policies are linked to the price of their crops at harvest time profit even more from higher insurance payments than if they had sold their crops in markets absent a disaster.
Farming technology has made leaps in recent decades, enabling farmers to be more productive and efficient. That productivity can benefit consumers, too—if the market is allowed to work freely.
LEARN MORE:
The Farm Bill's Secret Handout to Big Corporate Farms
The Conservationist's Case for Ending the Reign of Ethanol
Farm Bill 2012: Agriculture Policy Ripe for Reform
Source material can be found at this site.