IDNS: Diplomatic Spat After Iranian Translator Falsifies Morsi Speech
September 2, 2012 15:02 by Pesach Benson
Everything you need to know about the weekend coverage of Israel and the Mideast. Join the Israel Daily News Stream on Facebook.
Today's Top Stories
1. Iran's Persian translators deliberately mistranslated parts of Mohammed Morsi's address to the Non-Aligned Movement. YNet writes:
The Iranian interpreter translated Morsi's criticism of Assad's regime as statement's in support of Assad: "There is a crisis in Syria and we must support the ruling regime in Syria," he said, in complete contrast to Morsi's negative statements . . .
When Morsi went on to discuss events in Arab states where the Arab Spring played a part, the translator exchanged the word Syria with Bahrain.
Maqdam noted that this falsification doesn't reflect the Iranian leadership's interest in the real content of Morsi's speech. It was aimed more at the local consumption, to deceive the Iranian public opinion and making Iranians believe that Arab revolutions, particularly in Egypt, are consistent with Iran's official discourse.
Bahrain's demanding an apology. Meanwhile, Amir Taheri elaborated on four aspects to Morsi's speech that were calculated slaps at Tehran:
Not surprisingly, Tehran television interrupted its live broadcast of Mursi's address with a gas-company ad.
2. Is it my imagination, or does it seem like Big Media's latest commentary/analysis is coming around to Israel's thinking on the Iranian threat? See the NY Times, a Washington Post staff-ed, AP, Charles Krauthammer, and Dore Gold (Israel HaYom).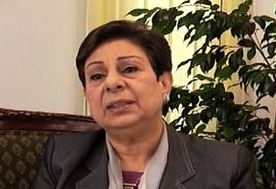 3.  Hanan Ashrawi claims there are no Jewish refugees from Arab countries. Out with it, Hanan!
. . . the "claim that Jews who migrated to Israel, which is supposed to be their homeland, are 'refugees' who were uprooted from their homelands. . . is a form of deception and delusion."
She explained: "If Israel is their homeland, then they are not 'refugees;' they are emigrants who returned either voluntarily or due to a political decision."
Ashrawi's comments came in response to Israeli efforts to hold a summit on the issue of Jewish refugees from Arab countries next month. . . .
Ashrawi also voiced hope that Jews would be allowed to return to Arab countries.
She clearly needs to read — for starters — the Point of No Return blog, Myths Facts: The Refugees, and the latest from Lyn Julius.
Iranian Atomic Urgency
• Washington Post ombudsman Patrick Pexton addresses a fair question: Why doesn't the press cover Israel's nuclear program too? It's a combination of reasons.
Israel doesn't acknowledge it has nuclear weapons.
Military censors can block the publication of material.
"Few people have overall knowledge of the Israeli program and no one leaks."
American officials don't leak what they know either, because you don't "out" your allies.
• Paul Gross: How It Feels to Live With the Iranian Threat — When You Have Kids
• Eli Lake's ray of hope: Iran's centrifuges appear to be based on an inefficient design dating back to the 1970s.
One reason Iran has not had success in producing the advanced centrifuges is because of western efforts to sabotage the complex supply chain for this kind of sensitive equipment.
• Reading theh US-Israeli tea leaves, Part 1: Gen. Martin Dempsey told The Guardian he doesn't want to be complicit if Israel launches an attack on Iran. A Wall Street Journal staff-ed (via Google News) takes a dim view:
If Gen. Dempsey or Administration officials really wanted to avert an Israeli strike, they would seek to reassure Jerusalem that the U.S. is under no illusions about the mullahs' nuclear goals—or about their proximity to achieving them. They're doing the opposite.
• Reading the US-Israeli tea leaves, Part 2: A joint Israeli-US missile exercise was scaled back. The scoop goes to Time's Karl Vick, but Israeli officials disputed Vick's breathless claim that the downsizing was related to American mistrust of Israel. More on that at the Jerusalem Post.
Source material can be found at this site.