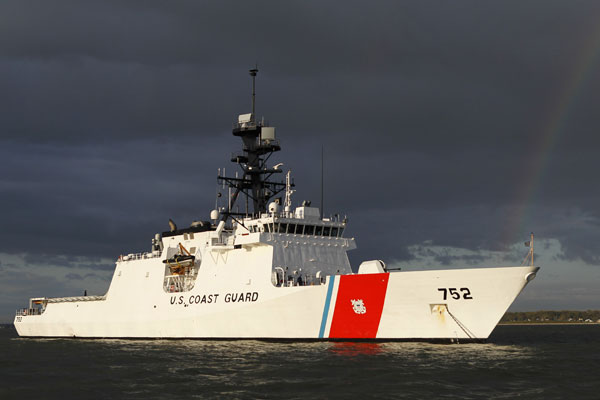 Coast Guard Commandant Admiral Robert Papp recently oversaw the keel laying ceremony of the newest National Security Cutter (NSC), the Hamilton.
Fittingly, this vessel is one of the fleet of NSCs to replace the outgoing Hamilton-class cutters, which have been in service since the 1960s. Yet while the outgoing geriatric fleet is in obvious need of replacement, the Obama Administration wishes to cut the NSCs from the Coast Guard's required level of eight to just six vessels, seemingly for no reason other than cutting costs.
The NSC is the only option going forward for the Coast Guard. The Coast Guard originally intended to replace the outgoing Hamilton class with 16 NSCs. It then agreed to halve that fleet to eight, but no one—not the commandant, not Congress—has indicated that a further reduction is acceptable from a security perspective.
Secretary of Homeland Security Janet Napolitano tried to explain away this foolish reduction by saying the decision was made "in light of what the Navy is doing." That justification is both confusing and irresponsible.
Contrary to what the Administration's actions would indicate, the seas are not calming. Even as the President wishes to cut the NSC fleet, he has made a commitment to the Asia-Pacific region as an emerging area of U.S. security interests. Among the many talents of the NSC are its blue water capability and its ability to cooperate with both the U.S. Navy and allied maritime forces, making it well suited to the Pacific.
The Coast Guard also intends to operate the NCS in the Arctic region, where various national and business interests have increased over the years due to receding ice caps and the potential for vast natural resources.
Admiral Papp, at a previous NSC ceremony, proclaimed, "Directly behind me, you see the future." The NSC is unprecedented in virtually every way: range, power, speed, versatility of missions, etc. The commandant understands how critical this vessel is to his sea service and to national security as a whole.
Congress should reverse the Administration's penny-wise, pound-foolish decision and properly fund the entire required fleet of the NSC.
Source material can be found at this site.