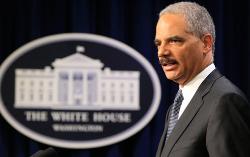 Internal Department of Justice emails obtained by investigators showed that Attorney General Eric Holder's communications staff has collaborated with the left-wing advocacy group Media Matters for America in an attempt to quell news stories about scandals plaguing Holder and America's top law enforcement agency.
Dozens of pages of emails between DOJ Office of Public Affairs Director Tracy Schmaler and Media Matters staffers show Schmaler, Holder's top press defender, working with Media Matters to attack reporters covering DOJ scandals. TheDC obtained the emails through a Freedom of Information Act request. (RELATED: TheDC's complete coverage of Media Matters)
Emails sent in September and November 2010 show Schmaler working with Media Matters staffer Jeremy Holden on attacking news coverage of the New Black Panther Party voter intimidation scandal.
Holden attacked former DOJ Civil Rights Division attorneys J. Christian Adams and Hans von Spakovsky on Sept. 20, 2010 for what he called an attempt "to reignite the phony New Black Panther Party scandal."
Before Holden posted his article at 7:52 p.m., Schmaler sent him several emails with information helping him attack both former DOJ oficials.
"Here's one Wolf letter," read the subject of one email Schmaler sent Holden that contained no text. The email was likely a reference to Virginia Republican Rep. Frank Wolf, a member of Congress who led the Republican charge on the New Black Panther Party scandal involving alleged voter intimidation at a November 2008 polling place in Philadelphia.
In response, Holden told Schmaler that "The response to interog 38 is particularly helpful. Thanks!"