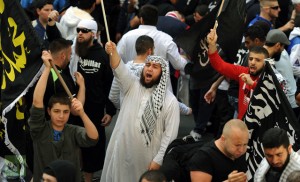 Spreading from the middle east, now to the West as violent clashes erupted this week after Muslim rioters marched from Sydney's Town Hall to Martin Place  and confronted police outside the US consulate as Muslims tried to break into the consulate.
Muslim rioters threw glass bottles and other objects at police, forcing officers to use capsicum spray during a melee that led to six police and 17 others being hospitalized.
Seven Muslim men and one male juvenile were arrested, with six men so far charged with offences including assaulting police and animal cruelty, police said.
Six police were injured and 17 others were treated for the effects of capsicum spray following the protest.
A 29-year-old Muslim man remains in custody and will appear in Parramatta Local Court today, charged with affray
A 24-year-old man has been charged with having an offensive weapon in a public place. Three Muslim, aged 23, 40 and 43, have been charged with resisting police and and a 38-year-old man is charged with committing an act of animal cruelty.
A seventh Muslim is awaiting charging, while a 15-year-old youth has been issued with a caution for offensive behaviour.
Police said last night they would also begin poring through "a significant amount of evidence" that had been gathered through the media and officers, and that anyone caught committing offences would be "vigorously pursued".
Yesterday's angry scenes began after about 1pm (AEST), when an "unannounced and unapproved" group of people gathered at Town Hall as part of a global Islamic rioting against an anti-Islamic film. This is the first example outside the Middle east.
Police said the Muslim chanting "Allah Akbar" began walking along George Street towards Martin Place, where they attempted to break into the US consulate, which is located in the MLC Centre.
It was here, according to police, that violence between officers and the growing group first broke out.
Tempers flared again when the demonstrators – then about 300-strong – took their rallying cry to Hyde Park.
Capsicum spray was fired, leaving faces red and inflamed, while one man was seen being dragged along the ground with blood dripping down his face.
[youtube RaLDbg9N8jQ nolink]