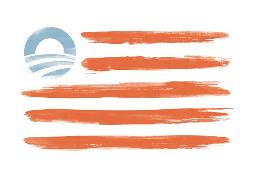 Barack Obama's disrespect and even desecration of our nation's fundamental values and symbols reached a new low last week when his campaign began selling a redesigned American flag.
Here it is…
It's one thing to stylize the American flag, but to blatantly put your logo and image at the center of our flag is, as one blogger called it, "virtual flag desecration."
As you can see, the field of 50 stars has been replaced with the Obama logo. It has been 47 years since the last star was added to the American flag. Last week Obama removed all of them and replaced them with his own logo.
And then he offered his new flag on t-shirts and "limited edition" prints — all to raise funds for his campaign.
At the same time Obama was releasing his redesigned American flag, his administration was purchasing air time on seven Pakistani television stations to once again apologize for America.
With radical groups storming our embassies, murdering our people and descrating our flag, Obama paid to go on Pakistani TV and essentially take blame and apologize!
President Obama is becoming an international embarrassment while he works to undermine our values here at home.
Yet Obama still leads in most of the major national polls!
We are facing a monumental crisis. A president who destroyed our economy, openly apologizes in foreign nations and desecrates our most sacred symbols STILL LEADS IN THE POLLS.
If Obama is re-elected, there will be no stopping his anti-American agenda.
That's why Patriot Super PAC — the official Super PAC of Grassfire Nation — is stepping it up right now.