A Change in Hamas Leadership?
September 24, 2012 17:30 by Pesach Benson
Today's Top Stories
1. Although his relative moderation is needed now more than ever, Hamas sources told Maan News that Khaled Mashaal will step down as the group's overall leader. According to Arab media sources quoted by the Times of Israel, Musa Abu Marzouk will replace Mashaal atop the totem pole.
2. Palestinian leaders have balked at resettling refugees in the autonomous areas for fear of undermining "the right of return." But Musa Abu Marzouk told Asharq al-Awsat that a number of Palestinian refugees living in Syria were being evacuated to Gaza.
If Hamas is anyway moving towards declaring Gaza's independence from Palestine, I can see why they'd degrade "right of return" as well. It ain't clear how many refugees Marzouk's referring to.
[Asharq Al-Awsat] Has the problem regarding the Palestinian refugees who fled Syria and who are trying to return to Palestine been resolved?
[Abu-Marzuq] We have secured the entry of many of the Palestinians who fled Syria for Egypt into the Gaza Strip. A limited number remain in Egypt due to certain problems and issues, such as studying. They may remain in Cairo for up to one year, and then we will work to secure their entry into the Gaza Strip following this.
3. YNet rounds up the latest Israeli efforts to boost the Palestinian economy and help the PA avoid an unpleasant Palestinian Spring. We're talking about raising the number of Palestinians authorized to work in Israel, moving up implementation of a recent economic agreement, and the construction of fuel pipelines.
Other Israeli measures to bolster the PA economy will benefit Gaza, reports The Media Line:
Israel agreed to permit a "moderate amount" of export of furniture an textiles from Gaza to the West Bank for the first time since Hamas took over in 2007. Israel also approved 16 internationally funded projects for Gaza, including the installation of a main swere line for the sewage treatment facility in Khan Yunis. Israel also agreed to update electricity transportation networks throughout Gaza.
Contrast that with this Reuters headline:
Hamas halves Israeli fruit imports to Gaza
Israel and the Palestinians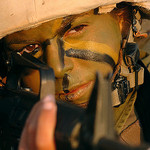 • A thumbs up to the IDF's co-ed Caracal unit from AP.
Women were barred from combat until 2000, the year Caracal was introduced as a way to ease females into combat duty. The unit was positioned in areas along Israel's borders with Jordan and Egypt. For years, the territory was calm, largely because Israel has peace deals with both neighbors. Soldiers who were there mostly worked to prevent drug and weapons' smuggling and while they were trained to neutralize an armed threat, they rarely faced one.
But in the last year and a half, since the fall of longtime Egyptian leader Hosni Mubarak, Caracal's usual patrolling area near Egypt has become a hotbed of militant activity.
• The line between fantasy and reality just got blurrier: This is a real review of a real book by Seth Freedman, an Israeli contributor to The Guardian whose name hasn't been on my radar for quite awhile.
The plot involves a failed city worker being head-hunted by Mossad to carry out secret missions throughout the country. One of these missions includes acting as an anti-Zionist writer for the Guardian. The link between the various roles that the protagonist occupies, is ostensibly his ruthless streak and his amoral approach to life.
Funny, but I have an urge to psychoanalyze Seth . . .
• Montreal and Israel were feeling the love after Mayor Gerald Tremblay led a successful economic mission. But the BDS movement at McGill U. ruined the mood.
Source material can be found at this site.