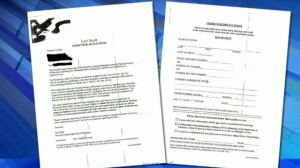 A clever attempt at intimidation and suppression of Republican voters is now under investigation in, where else, the state of Florida.
The historic battleground, with 29 Electoral College votes up for grabs, begins early voting Saturday, but dozens of voters so far have produced strange letters they just received informing them that their citizenship is under question and if they attempt to cast a ballot before clearing the issue up they face a felony charge and possible jail time.
But the letters are bogus, and all were postmarked in Seattle.
"My concern is that, again, the absentee ballot folks or some elderly folks in Florida that aren't as mobile, can't get to the election office — they may just be on the fence, whether they want to vote or not in the election — will just decide I'm not going to do it, I'm not going to risk it," said John DeAngelis, one of the Florida voters who received the letter.
Florida's secretary of state calls this a clear case of voter intimidation.
The fake letters were not sent certified mail, just apparently dropped in a mailbox in Seattle, with no return address or person or group identified as the sender. County elections supervisors in Florida are now warning all Florida voters that these bogus letters are arriving and are not to be believed.
Three key clues that they're fake: the Seattle postmark, the letters weren't sent certified mail and the county elections supervisor's signature is missing.
"They know, conceivably, Florida will be close," says Tim Durham of Collier County, Fla. "If they can get enough people not to vote, they could help their cause."
So far, these letters have shown up at the homes of voters in 23 of Florida's 67 counties. More are expected.
The Romney campaign is aware of the issue.
"Our campaign is concerned with this situation, and we are monitoring it closely. If anybody believes that they have received one of these letters, we urge them to contact their local election officials and the Florida Department of State," spokesman Ryan Williams said.
The state of Florida is investigating.