So far in early voting 110 year old's have  made a pretty good showing for the Democrats; 2214 of them have voted either by mail or at a one-stop site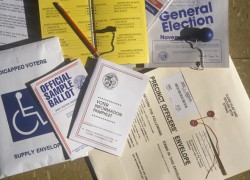 (214 by mail and 2,000 at early voting sites).  There are 1,420 Democrats confirmed in this group and 77 Unaffiliated voters and even 717 registered Republicans in this group perhaps voting for Obama too.
Nothing against very old voters, but it is funny that these 110 year olds live in only 34 counties and 87% of them live in 4 counties –  Guilford has voted 681 of them so far, Forsyth – 581, Cumberland – 427 and Davidson voted 230.
Some more facts about these older voters:  1,923 of this year's group also voted in the 2008 General Election during early voting – they were only 108 back then.  In 2008 a total 9,688 108 year olds voted early.
And just in case you thought 110 was pretty old, Gaston County data shows that  a 154 year old voter has cast a ballot and Granville County's data reflects a voter who is 160 years old, guess who their voting for.
Absentee data is available for download from the State Board of Elections website.