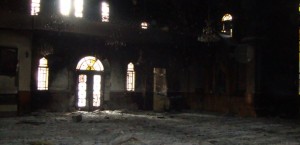 Democracy on the march! Rebels that the Obama administration has been supporting to overthrow Assad in Syria, well they are not too nice. An "Armenian Christian church was reportedly burned down in Aleppo," as reported from Armenia Now on October 31
The St. Gevorg church in Aleppo's Armenian-populated district of Nor Kyugh was set ablaze on Monday, reported Tert.am, quoting a representative of the local Armenian prelacy.
Speaking to the online paper, the spokesman, Zhirayr Reisian, confirmed that the church had become a target of U.S. supported rebels and that it had almost been reduced to ashes.
Reisian also said that the Mesrobian Armenian school adjacent to the church has been seriously damaged, too.
Earlier on Monday a blast near an Armenian district of Syrian capital Damascus reportedly killed 10 people and wounded around 50. Armenians were feared to be among both dead and wounded.
Later Reisian told state-run agency Armenpress that a group of 10 Christians, including seven Armenians, was kidnapped near Aleppo.
About four dozen Syrian Armenians have reportedly been killed since the start of the conflict in Syria in March 2011. Hundreds of an estimated 80,000 Syrian Armenian, mostly concentrated in Aleppo, have taken refuge in Armenia since fighting between government and opposition forces reached the city last July.