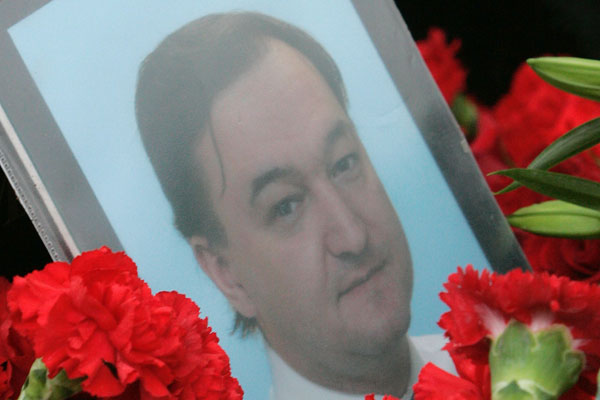 Last Thursday, the House of Representatives passed a bill that included language—called the Magnitsky Act—that for the first time punishes Russian officials implicated in serious human rights abuses.
The bill was passed by an overwhelming majority—365 to 43—demonstrating strong bipartisan support. The Senate will vote on the Magnitsky Act and the underlying bill during the lame-duck session after the Thanksgiving recess.
The Magnitsky Act is named after the late Moscow lawyer, accountant, and whistleblower Sergei Magnitsky, who in 2009 accused Russian police and tax officials of embezzling $230 million from the Russian treasury. For his "crime" of holding government accountable, Magnitsky was jailed, tortured, denied medical care, and finally beaten to death in his prison cell.
Russian President Vladimir Putin referred to the Magnitsky case as a "tragedy" while vehemently opposing the U.S. legislation named after the whistleblower. Some perpetrators of the Magnitsky persecution even received medals and promotions.
Instead of conducting a proper investigation to bring those responsible for Magnitsky's death to justice, the Kremlin has threatened to retaliate, accusing the U.S. of meddling in Russia's internal affairs.
As part of that retaliation, Moscow demanded the release of Viktor Bout, a large-scale Russian arms smuggler who is serving 25 years in a U.S. prison for selling arms to Colombia's FARC terrorists. Russia is now targeting U.S. law enforcement personnel involved in the Bout affair.
Russia's lawlessness and corruption brought about the Magnitsky bill. "The bill is beneficial to my country, punishes the criminals, and fosters economic relations between Russia and the U.S.," said Boris Nemtsov, a democratic opposition leader, on a visit to Washington.
The Magnitsky case is far from being the only outrage. Mikhail Khodorkovsky, former CEO of the Yukos oil company, which was illegally seized by the Russian government in 2004 and 2005, is serving a second nine-year prison term. Amnesty International has recognized Khodorkovsky as a political prisoner. There are hundreds more businesspeople like him in Russian jails.
American lawmakers stepped in where Russian law enforcement failed so abysmally. It was these lawmakers who drew attention to the outrages in Russian jails and contributed to a better business climate through the Magnitsky Act.
The Magnitsky Act was part of legislation that granted Russia—now a World Trade Organization member—permanent normal trade relations status (PNTR). Without PNTR, U.S. firms doing business with Russia would be at a disadvantage vis-à-vis foreign firms. U.S. businesses lobbied Congress to foster access to the $400 billion import market in Russia.
The Heritage Foundation has been at the forefront of this issue since the beginning, arguing that the U.S. should not juxtapose human rights and business. Both are important U.S. priorities.
Until the Senate votes on the bill with Magnitsky language, trade with Russia—worth $40 billion a year, less than half of Russian trade with Germany—remains subject to the 1974 Jackson–Vanik Amendment adopted during the Ford Administration.
The Jackson–Vanik legislation was an important tool for promoting freedom of emigration and other human rights issues in the Soviet Union. In the 21st century, however, it became antiquated, as emigration from Russia is now free. And while official Moscow may be fuming for now, its long-term interest lies in growing U.S.–Russian business ties.
Continuing the work of the House on this issue would be an important signal for Congress to send. By doing so, the Senate would provide a solution that pinpoints and punishes gross violators of human rights while allowing U.S. companies to compete for business in Russia and elsewhere.
Source material can be found at this site.