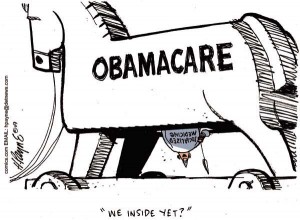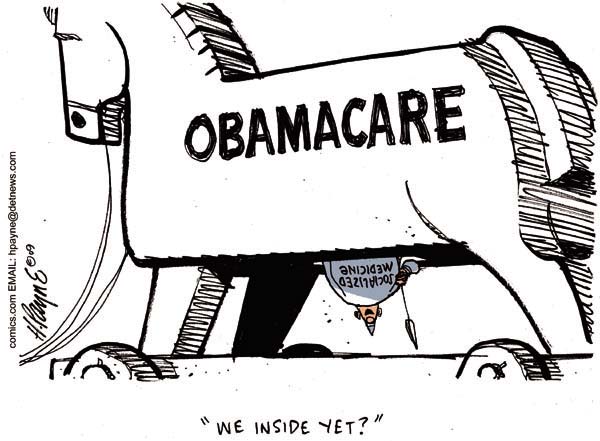 The federal government has issued a series of sweeping new rules and regulations surrounding Obamacare — benefits that health-industry experts fear could end up costing Americans more.
The proposed regulations, revealed Tuesday by the Centers for Medicare and Medicaid Services and the Department of Health and Human Services, will begin in 2014. They mandate:
Health insurance companies will be prohibited from discriminating against individuals because of a pre-existing or chronic condition;
Insurers will only be allowed to vary their premiums within limits, with rates being based on age, tobacco use, family size, and geography;
They will also prohibited from denying coverage or charging higher premiums based on an enrollee's current or past health problems, their sex, their job or the industry they work in;
People for whom coverage is unaffordable, and young adults, will have access to a catastrophic coverage plan;
Policies and standards spelling out essential health coverage benefits are being set to give states more flexibility to implement Obamacare. They will allow consumers to be able to compare health plans. Standards for Medicaid benefits are also being established;
The implementation and expansion of employment-based wellness programs to promote good health and help control healthcare spending. This ensures that individuals are protected from unfair underwriting practices that could reduce benefits.
Betsy McCaughey, a former New York lieutenant governor under George Pataki and author of "Decoding the Obamacare Law," told Newsmax the new rules and regulations will cost consumers more.
"Obviously the more you include in an essential-benefits package, the higher the price," McCaughey said.
"It's like passing a law that the only car you are allowed to buy is a fully-loaded Cadillac."
Meanwhile, companies with 50 or more employees will have a choice of sponsoring a health plan for 100 percent of their workers, paying an annual penalty of $2000 or reducing all their employees hours to under 30 hours per week.
One study shows a third of those employers with 50 or more workers may opt to pay the annual penalty and drop their coverage. The extra costs will force many companies to reduce a number of their full-time workers to part-time status.
In addition, said McCaughey, more than half of Obamacare is paid for by cuts to Medicare, which translates to $247 billion less for hospitals.
There will also be a half-trillion dollars in new taxes, as well, she said. One of those is the Medicare Investment Tax, which comes from unearned income — $200,000 or more for a single person, $250,000 or more for couples. It represents a 3.8 percent hike on top of the capital gains tax.
In addition, low enrollment in Obamacare plans could lead to higher premiums.
According to the Washington Post, hospitals worry that, without widespread participation in the plans, "they will continue getting stuck with patients' unpaid medical bills.
"And advocates say the major purpose of the Affordable Care Act — extending health insurance to more Americans — will go unmet if large numbers of vulnerable people don't take advantage of it."
Health officials urge Americans to begin researching Obamacare and the effects it will have on them.
Tevi Troy, a top Health and Human Services official under President George W. Bush told the Post: "If you don't have an understanding of the law, that's when you're going to have real take-up problems."
Another confusion that has arisen is whether states will create their own health care exchanges to administer Obamacare or let the federal government do it.
So far, only 17 states have told the White House they plan to move ahead with their own programs. Eight governors have already rejected state plans or decided to work with Washington in creating hybrid state-federal exchanges.