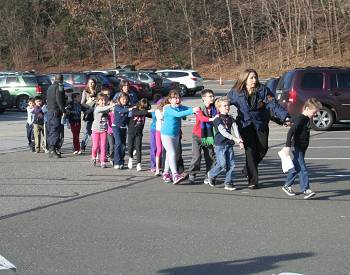 The Hartford Courant is reporting police have responded to a shooting at Sandy Hook Elementary School in Newtown, Connecticut. Local police say they got a call around 9:40 this morning about a shooter in the school's main office.
Right now, very little information has been released, but the Courant is reporting there were two shooters, one is dead, the other may still be at large. Several people are reportedly injured as well. The shooting may have took place in a kindergarten room.
Newtown has a population of about 27,000 and is located in western Connecticut.
UPDATE 10:46 AM: NBC Connecticut is streaming live coverage on its website, including phone interviews with parents who have children who attend Sandy Hook Elementary.
UPDATE 11:00 AM: A Danbury Hospital official confirms three patients have been admitted from the scene at Sandy Hook Elementary. She would not say whether their injuries were gunshot wounds, however.
UPDATE 11:14 AM: NBC Connecticut just aired a live interview with a parent who claimed she'd been told the school's principal was shot and is dead. That report is not confirmed.
UPDATE 11:22 AM: NBC New York is reporting there has only been one fatality so far, the shooter.
UPDATE 11:31 AM: NBC Nightly News reports the shooter was an adult and two handguns have been recovered from the scene at Sandy Hook Elementary.
UPDATE 11:51 AM: The Associated Press reports a teacher was also wounded in the shooting and the Hartford Courant is now reporting there were "multiple deaths" as a result of the shooting. Police are supposed to give more information at a news conference at 1:00 p.m. EST.
UPDATE 11:52 AM: The Hartford Courant has confirmed that children are among the dead after this morning's shooting.
UPDATE 11:58 AM: Neighboring schools are also on lockdown. Reddit has a thread by someone who claims to be in one of those schools right now.
UPDATE 12:15 PM: CBS News has learned the gunman was possibly the father of a student at Sandy Hook Elementary.
UPDATE 12:32 PM: Federal law enforcement is now saying there were more than a dozen people shot and killed this morning.
UPDATE 12:53 PM: The Associated Press now cites an anonymous official who 27 people are dead, 18 of them are children. Columbine's death toll was 15; 32 died in the Virginia Tech massacre.
UPDATE 20 year old shooter, OMG, its reported he killed everyone in one classroom of kindergarten children. THE ENTIRE CLASS UNACCOUNTED FOR!