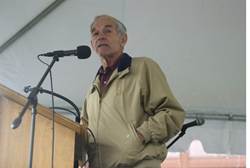 Rep. Ron Paul (R-Texas) alleged that the recent escalation of violence between Hamas and Israel can be blamed on U.S. foreign policy, which, he maintains, favors Israel.
"U.S. foreign policy being so one-sided actually results in more loss of life and of security on both sides," Paul said, according to The Hill. "Surely Israelis do not enjoy the threat of missiles from Gaza nor do the Palestinians enjoy their Israel-imposed inhuman conditions in Gaza."
He continued to state, "As long as Israel can count on its destructive policies being underwritten by the U.S. taxpayer, it can continue to engage in reckless behavior. And as long as the Palestinians feel the one-sided U.S. presence lined up against them, they will continue to resort to more and more deadly and desperate measures."
Paul said that he was heartened by the recent cease-fire agreement, but that no lasting change to the region would be within grasp until the U.S. develops a neutral foreign policy.
He further stated that President Obama has made the same mistake as former President George W. Bush by justifying Israeli defensive measures against Hamas.
He added that Obama's claim that no country should suffer rocket attacks remain void, as Obama himself has engaged in bombing campaigns around the world.
"The U.S. supported the Israeli side because, [Obama] said, 'No country on Earth would tolerate missiles raining down on its citizens from outside its borders,' " The Hill quoted Paul as saying. "Considering that this president rains down missiles on Yemen, Afghanistan, Pakistan, and numerous other countries on a daily basis, the statement was so hypocritical that it didn't pass the laugh test."
Paul added that U.S. favoritism toward Israel was seen in the decision of Secretary of State Hillary Clinton to meet with Israel but not with Palestinian Authority leaders. "Does this sound like an honest broker?" he asked of the United States.
Clinton did, however, meet with Palestinian Authority Chairman Mahmoud Abbas last week to discuss the Gaza ceasefire agreement, but did not speak to representatives of Hamas, which the U.S. labels a terrorist organization.
Paul also assailed passage of a pro-Israel resolution by the House last week, which he said was introduced speedily and passed before most members could object.
Resolution, H. Res. 813, which supports Israel's right to self-defense, he said, "was so one-sided it is not surprising they didn't want anyone to have the chance to read and vote on it."
"Surely at least a handful of my colleagues would have objected to language like, 'The House of Representatives expresses unwavering commitment to the security of the State of Israel as a Jewish and democratic state with secure borders.," Paul concluded.
Source material can be found at this site.