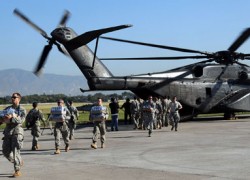 Rumors are swirling that included in their negotiations to avert the "fiscal cliff," President Obama and House Speaker John Boehner (R–OH) may add an additional $100 billion in cuts as an alternative to the roughly $500 billion in defense budget cuts over nine years required by sequestration under the Budget Control Act of 2011. If this occurs, it will be a bad deal for the security of the American people and America's allies around the world.
Understanding why this is the case starts with a review of what has happened with the defense budget in recent years. The focus should be on the budget level for defense in fiscal year (FY) 2014. The Obama Administration will release its FY 2014 budget proposal early next year, and if there is an agreement to avert the fiscal cliff, it is all but certain to incorporate the agreement's provisions related to the defense budget.
In FY 2010, the overall defense budget was $721 billion. Under President Obama's FY 2013 budget proposal, which incorporates the initial spending caps on national security programs under the Budget Control Act of 2011, the defense budget will fall to $566 billion in FY 2014. This is a 21 percent drop in spending from the FY 2010 level and does not account for the negative effects of inflation on the defense program.
While it is not certain, sequestration could reduce the FY 2014 defense budget to $512 billion. This would be a 29 percent reduction from the FY 2010 level.
Defense budget reductions of this scope will lead to a military force that is too small, insufficiently ready, and lacking the kinds of modern weapons and equipment needed to meet the national security commitments of the United States. It will certainly require replacement of the national security guidance released by President Obama at the outset of this year.
Ultimately, this is a budget that will result in the decline of the U.S. as a world leader. As a result, the President and the Speaker will be choosing to lose something that is extremely valuable. The U.S. has the ability to control its own destiny in a dangerous world.
Source material can be found at this site.