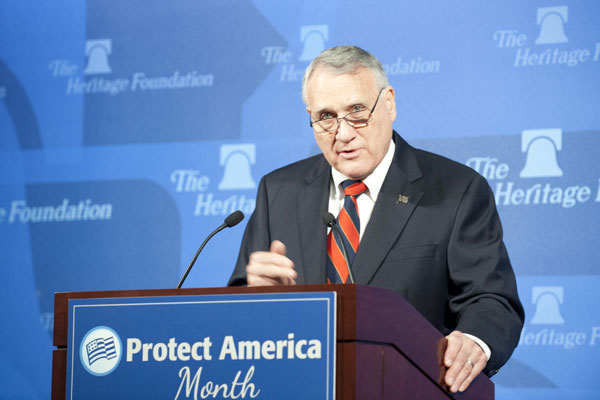 This month, Congress will lose one of the foremost champions of freedom and a strong national defense: Senator Jon Kyl (R–AZ). Senator Kyl has served three terms in the U.S. Senate after eight years in the U.S. House of Representatives.
In his farewell speech, Kyl focused on economics, family values, and a strong national defense. Especially regarding the latter, Kyl will be remembered for his unwavering support of the U.S. missile defense program and commitment to U.S. nuclear deterrence.
According to Kyl, "Recent events illustrate the importance of missile defense in today's security environment. Israel's Iron Dome missile-defense system protected its population against rocket attacks, giving Israeli military and political authorities the time and space necessary to avoid a devastating ground war, which is ultimately what made a truce possible." This is certainly the case and Kyl's leadership on this issue will be sorely missed.
Kyl led a critical opposition to the flawed New Strategic Arms Reductions Treaty (New START) and helped to defeat the Comprehensive Test Ban Treaty (CTBT). He believes that "more treaties or unilateral actions that take us closer to nuclear disarmament will not help address the nuclear dangers we face today; such actions will serve only to make our allies, who depend on U.S. nuclear guarantees, more nervous, while potentially weakening the credibility of U.S. nuclear deterrence."
Regarding CTBT, Kyl urged his colleagues "to defeat this treaty again should it come up in the President's second term" during his farewell address.
Over the years, Kyl delivered numerous valuable lectures at The Heritage Foundation on the importance of a strong national defense, China's anti-satellite weapons, Medicare reform, and the future of transatlantic relations.
The Heritage Foundation thanks Senator Kyl for his leadership on these important issues and wishes him the best as he embarks upon a new chapter in his life.
Source material can be found at this site.