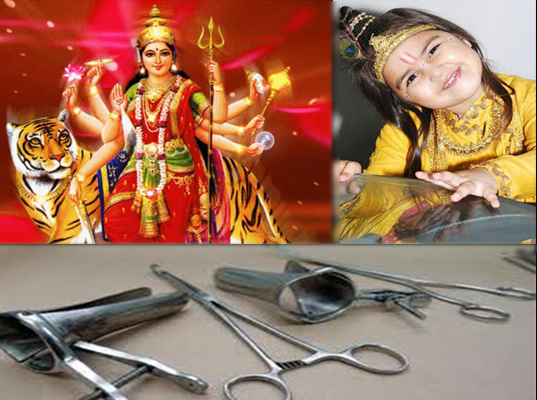 From ancient times India has been worshipped as Mata Bharat or Mother India. The country's very soil is therefore not just motherland but the mother goddess herself. Which makes the now notorious brutal rape and murder of the 23 year old female medical student all the more poignant.Stripped of her clothes, dignity and very essence of humanity the young lady became just another fatality in her use as a faceless tool for the sexual frustration and warped machismo of others.
Where are the Voices of Leadership?
This brutal sexual assault and subsequent resultant homicide which  raises a few disconcerting questions regarding modern Indian society and in particular the attitude of those in power: as a on a private bus in Delhi raises a few disconcerting questions regarding modern Indian society and in particular the attitude of those in power: both in religious/spiritual and temporal realms.
Having been sexually assaulted, left for dead and finally succumbing to her fatal injuries the student could have been just one more tragic statistic High profile protests which have now warranted the belated attention of Sonia Gandhi and Prime Minister Manmohan Singh (who was caught off camera saying rather less sympathetic remarks just after his speech in which he claimed empathy).
That has the gang rape on the bus the most notorious sex crime in India this year. Yet it is astounding when one realises the almost complete silence by Hindu leaders on the subject. Swami Ramdev has been one of the very few to speak out and condemn the violent sexual assault suffered by the medical student.
Now should be the time to examine why not just this rape happened but a staggering 630 'reported' rapes have happened this year in Delhi alone. As always such leaders are largely silent when it comes to 'inconvenient' topics. Yet now is the time to speak on this and to condemn Adharmic practices. India remains a fundamentally conservative country where gurus, swamis, sannyasis and others are looked up to with reverence and are beacons of guidance for what is predominantly a rural country. A wall of complete silence has been notable from nearly all of India's political leaders, including the female members of national and regional assemblies.
Figures such as the BJP's Sushma Swaraj are the exception in actually speaking out.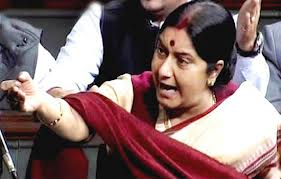 India also has a large number of female sannyasis,swaminis and sadhvis. Some of them have made great strides in improving literacy for women and girls. Yet where were their voices in condemning not just this rape but others that do not even make it on the national radar, let alone the rampant domestic violence, dowry abuse and abortion of female foetuses? When a collective voice is needed from religious and political leaders the best we have had thus far is a smattering of politically correct condemnations empty of any concrete steps towards a solution or even justice. The majority do not live in the sophisticated urban areas which belong to the much vaunted emerging middle-class who are familiar with both English and increasingly with western norms.
They live as they have done as peasants, subsistence farmers living in countless villages speaking a host of regional vernaculars where tradition runs deep. While modernity has made its mark here with mobile phones, television and aspects of modern consumerism, the prime concern is survival and stability. As worlds clash and India emerges into the twenty-first century, the sociological tectonic plates run into each other leaving behind ugly debris in their wake. Too often women are the victims as a Third World rural society transforms hesitatingly and nervously into a developed country because we must remember it is not just a problem of the rural masses. The 23 year old rape and murder victim was in Delhi. That means modern, urban, sophisticated and the crux of westernisation in India.
The only reason the crime has received such high-profile attention is because she was middle-class. Yet even among this suave educated elite there is no let up in the detrimental attitudes towards women and girls. Much of the anger has been directed towards the police and India's political class because it is among the ranks of these powerful sectors that many of the most brutal sex crimes have emanated. Sons of well-connected politicians carry out sexually motivated murder with impunity. The police are in their employ. The judicial system rigged in their favour. It is this structure which allows police themselves to sexually harass and violate the most vulnerable women in society who then have no recourse. Is it therefore any surprise that police will do little against rapists if they are of the powerful political elite?
Despite offering the usual bland statements of condemnation can the majority of India's women and girls expect anything of substance from a political class which uses its power nexus and effective immunity from prosecution to not only allow rape but actively participate in these heinous crimes? What use is India as the largest democracy when its ruling elite look upon the voting public as an insignificant mass whose sole function is to have their votes exploited through empty slogans and unfulfilled promises? If anything spiritual guidance, religious leadership and the relevance of India's diverse ancient culture is needed at this juncture.
Only the concept of Dharma can provide the moral compass for a changing society such as this and build the healthy civil society which is needed in spite of the machinations of the country's political elite and disinterested chattering classes. While women may have equal rights in law, and a written constitution at that, in reality of course this can be ignored by the powers who wish to preserve the colonialist style kleptocracy which makes daily life in India so unbearable. In the context of rape presidential pardon has been used to exonerate convicted rapists and murderers of children from custodial sentence so they can become repeat offenders.
Before leaving office in June 2012, Pratibha Patil had pardoned seven rapist-murderers, who were awarded death penalty by the sessions courts – and those death sentences were upheld by the respective State High Courts and the Supreme Court of India. But Pratibha Patil accepted their mercy petitions on the recommendation of the Ministry of Home Affairs, then headed by P. Chidambaram.
So the recent outrage in Delhi was by no means unique and while any attempt to rank crimes of this nature is fraught with difficulty, nevertheless the ones which qualified for presidential pardon under Patil make very disturbing reading:
(1) Molai Ram and (2) Santosh Yadav (Madhya Pradesh): Santosh Yadav was serving a rape sentence in the Central Jail, Rewa (MP). He was asked to do some work in the garden of the jail quarters. Molai Ram was on duty as a guard at jailor R.S. Somvanshi's quarter on 20 February 1996. Jailor Somvanshi's daughter Naveena (16) was alone at home as her father had left for work while her mother had gone to her parents' house along with her son. The two raped Naveena, a student of Class X. After raping her, they killed her and threw the body in a septic tank in a nearby cattleshed. Her body was recovered the next day. It was found that she had died of strangulation and stab injuries. The two were given death in 1999. Pratibha cancelled the death punishment.
(3) Satish (UP): In August 2001, Satish raped a six-year-old girl Vishakha and then killed her. The girl, a student of Meerut's Sarvodaya School, had left home for school on 16 August 2001, but did not return. Her body was discovered from a sugarcane field the next morning. Satish was seen by eyewitnesses as riding a bicycle with the little girl seated on the handlebar the day the girl disappeared. The case was considered to belong to the "rarest of rare category" and Satish was given a death sentence in February 2005.
(4) Bandu Baburao Tidke (Karnataka): Tidke was a sugarcane cutter in Maharashtra's Beed. He came to Huliyala in Karnataka's Bagalkot district in 2002 where he stayed at an ashram, posing as a swami. The same year, he dragged a 12-year-old school girl to his room, raped her and killed her. He then escaped to Shirdi, leaving her body there. He was arrested the same year. He was given the death sentence in 2005 by the Bagalkot district court and sent to Hindalga jail in Belgam. Patil took the decision to pardon him in June 2012.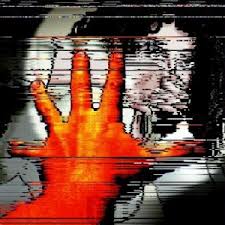 (5) Bantu (UP): In this case the victim was a five-year-old girl, Vaishali. On 4 October 2003, one Naresh Kumar, his brother Vishal and niece Vaishali were attending a "Devi Jagran" in village Basai Khurd in Agra district. Naresh Kumar's neighbour Bantu was there too. He took out the child saying he would give her a balloon. When Vaishali did not return for a long time, a search was launched for her. Vaishali and Bantu were found next to a pond at 9.30 pm. Bantu was caught in a naked state. He had raped and repeatedly tortured Vaishali in the worst possible way. She was rushed to a hospital but was declared brought dead. Bantu was given death by the trial court, a judgement that was upheld by the high court and the Supreme Court.
(6) Dharmendra Singh and (7) Narendra Yadav (UP): Dharmendra Singh and Narendra Yadav of Agra were convicted for killing five members of a family, including three minors, in 1994. The dispute started over property. One Chandra Mohan had purchased 13.5 bigha land and half a haveli from Dharmendra's grandfather. The other half of the haveli was used by Dharmendra, who was not happy with the co-ownership. Chandra Mohan's niece Rita (15), was often teased by Dharmendra's friend Narendra, but she did not return his advances. Chandra Mohan once gave a thrashing to Narendra.Narendra hatched a conspiracy with Dharmendra to rape Rita and kill the family members. The duo killed Chandra Mohan and five others on the night of 26 May 1994. Rita was raped before the murder.
Now compare this Patil presidential predecessor A.P.J. Abdul Kalam who had rejected the petition of Dhananjoy Chatterjee. He had raped and murdered Hetal Parekh, 14, in 1990 and thus was duly hanged in Kolkotta on August 14, 2004. Since Dhananjoy Chatterjee of West Bengal was hanged in 2004, 25 killer-rapists sentenced to death have obtained the President's pardon because P Chidambaram concluded, "such offences are not uncommon" and Prathibha Patil approved Home Ministry's recommendation. No president in India's history has used the power to pardon death-row inmates as extensively as President Patil. She has granted a record of 30 pardons in the last 28 months, over 90 per cent of India's total death sentences pardoned ever. But 22 of those relate to brutal multiple murders,rapes and gruesome crimes on children. It would be bad enough if Patil was just another disconnected and aloof politician looking down upon the Indian masses as the Viceroy of India once did during the days of the British Raj. But there another sick irony to all this. Once could at least expect Patil to have had some greater degree of sympathy with the victims of rape. After all, as her name 'Pratibha' indicates, ex-president Patil is a woman.
From Goddess to Sex Object
The issue goes much deeper than just this or the thousands of other rapes that are occurring in India like an epidemic. It makes it all the more poignant that India is where women have been historically honoured. Shakti, the feminine force of energy, is essential to Hindu philosophy. No meek or submissive force Shakti is honoured as the mother goddess Durga who sits on a tiger armed in all ten of her arms to slay evil and ensure victory of righteousness expressed in earthly terms through Jijabai the mother of Hindu warrior King Shivaji or through female military leaders such as Rani of Jhansi who fought alongside their menfolk. Yet what is the stark reality in India today? Not just rape but a whole plethora of abominations and abuses which target females as an inferior species.
A consumerised modern India has not abated the excessive demands for dowry. Rather it has exaggerated the practice leading to horrific cases of domestic violence where kerosene is poured onto the new bride and she is set alight when physical threats have failed to induce the desired result of blackmail. These financial rackets are routinely dismissed as 'kitchen accidents'.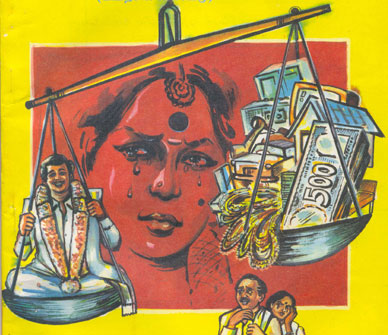 Here the scenario of gender warfare breaks down because it is nearly always women murdering other women. The bride may be in the husband's house but it is the sinister yet very real mother-in-law figure who makes the girls' life a living hell. This often happens with collusion of her daughters or other female relatives in a claustrophobic suffocation which has long been the favourite theme of Indian film and especially soap opera. Here the mother-in-law colludes with the repression faced by her own gender in sophisticated urban middle-class modern India; as MTV music plays in the background. Constant and relentless celluloid degeneration of women as easy sexual commodities has created a false sense of entitlement amongst male youth. Girls and women that refuse to succumb to this endless verbal and physical molestation face a fate worse than death as they are deliberately blinded and physically deformed in sickening acid attacks. The cycle of violence then takes a more sinister turn. There is already a marked preference for boys. No need for dowry. No fear of rape. No threat of acid attacks because of refusal to comply with sordid sexual demands. In a demographic fertility rate already biased in favour of the male child it is easy to see why this is enhanced further as parents routinely abort female foetuses or even throw out and murder unwanted female infants.
This is not just a problem for the largely rural masses. It is a phenomenon found, sometimes with increasing frequency, among the emerging affluent middle-classes who are touted as the bedrock of twenty-first century India. That means right in the heart of India's urban, sophisticated, cosmopolitan, designer label fashion-conscious, MTV-watching Generation X. Bhangra videos once appallingly made now follow their MTV mentors in gangsta rap, the most violently misogynist form of hip-hop where 'bitches' and 'hoes' are openly traded along with guns and drugs. To say this has no effect on the viewing audience is to ignore not just the reality but human intelligence. If that was the case why would advertisers spend millions on sponsorships and endorsements to buy products? It would not even make economic sense to throw much earned profit over something which had no effect.
In like manner the constant pumping out of the most cheap, sexually charged and narcissist imagery will entice the masses to copy and when they find that music television conflicts with the reality, they mould unwilling victims to role-play in that genre. Again the psychological effects are obvious. From teenagers right to the elderly, all females in Delhi have become fair game for sexual molestation with impunity. While police and politicians abuse their position to rape and assault females with impunity, the humble beggars make lewd sexually suggestive actions and remarks even while they beg at car windows for a few rupees.
Nobody epitomises this degeneration into the gutter more than Yo Honey Singh. Having attained cult status his filthy lyrics degrading women blast out from drunken men and spoilt brat youth blasting his music inside swanky cars in Delhi and other cities of north India.
Such is his popularity that his songs are repeatedly being played by radio stations, Bollywood producers are queuing outside his office, Anyurag Kashyap plans to make a biopic about him and many prominent nightclubs play his vulgar, offensive and disgusting songs laced with crude masculine profanities, chauvinism and sexist abuse and violence directed at women and girls.So while thousands of young girls and boys in Delhi and all over India are protesting against the brutal gang rape and murder of a 23-year-old female medical student in Delhi, Honey Singh mocks them in his self-appointed role as the king of misogynist Indian hip-hop.
Despite this brutal rape his pictures were splashed across prominent newspapers inviting readers to join him at this year's New Year bash in a big ticket show. This upstart's arrogance knows no bounds. On Friday 21 December 2012 he was scheduled to have a press conference at 11.30am ahead of his concert in Singapore. But this was cancelled at 10am because he had been partying hard with his sycophants until 4am. Even the replacement interview, scheduled for 4.30pm, didn't start until almost two hours later because Yo! Yo! Honey Singh, whose real name is Hirdesh Singh, "was sleeping". Of course there were no apologies for him being late. He explained that his track 'Satan' was against drug pushers and drugs. Yet perhaps the real devil here is Hirdesh himself. Typical of his lyrics are the below where he boasts of being a rapist:
Raat ko nikali naari hui gadi pe savaari par voh raat usko pad gayi bhari.

A women came out in night Boarded my bus But that night proved to be serious for her

Peeche se aaya mainutari uski saarikachchi phadi l*ng gaadi aur g**nd maari.

I came from back Removed her Saari Ripped apart her panties Opened my Lungi
Erected my p**is And raped her an**y

Kyunki main……….Kyunki main……….Kyunki main hoon ek balatkari.Kyunki main……….
Kyunki main……….Kyunki main hoon balatkari.

Because i…Because i…Because I am a rapist Because i…Because i… Because I am a rapist

Ch*t hai ke voh ya ek mayga naalal*nd mera lamba, pyaasa kaala randii thi voh, maa ki lodikarne di haan apni izzat chori. ho'oh ho'oh

Is her v**ina real or some canal  My long thirty black di*k She was a prostitute, just like her mother She allowed me to rape her ho'oh ho'oh

aakhir mein ruki gaadi chadh gaye aur savaari aur sabne naari pe nazar maari
naai ki gaand phati bachch kar voh chhalang maari   laykin peeche pad gayi paltan saari

Finally the bus stopped More travelers came All put her eye on her She got scared She jumped off the bus But all people chased her

Kyunki voh……….Kyunki voh……….Kyunki voh……….Kyunki voh……….
Kyunki voh……….Kyunki voh sab hain balatkariKyunki voh……….
Kyunki voh……….Kyunki voh sab hain balatkari
Because they…Because they…Because they…Because they all are rapists
Because they…Because they all are rapists
balatkari balatkari  jisne sabki jaand phadi  balatkari failayi aids jaise bimaari
balatkari kaise zun sah sakti hai naaribalatkari kanoon ko di hai badi supari balatkari gande log gande khiladi balatkari ooooooo balatkari

Rapists Rapists The one who ripped the pubic hair Rapists
The one who spread AIDS RapistsThe women who can bear all the torture
RapistsBad people, bad playersRapists Oooooo Rapists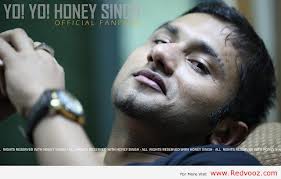 It is all very well having freedom of speech but when such lyrics are repeated in the minds of frustrated young men who then act out their sick fantasises on hapless female victims should a responsible society not act? In Britain home-grown bands such as Skrewdriver and No Remorse had their recordings banned. Why? These were leading Nazi skinhead bands whose lyrics openly advocated racial violence, genocide and denial of the Holocaust. They were avidly listened to by neo-Nazi gangs such as those involved in the racial pogroms against asylum seekers, ethnic minorities and the disabled after Germany's reunification in 1990. So even in the west there is precedent for limiting freedom of speech when the social effects are too horrific. In this context having hardcore female fans screaming their devotion to Yo Yo Honey Singh would like having the same brown-skinned crowd doing Hitler salutes at a Screwdriver concert where the lyrics advocate their one way ticket to the gas chambers.Such music known variously as hatecore or Blood and Honour is banned because it advocates racially motivated violence. For the same reason should we allow lyrics that advocate sexually motivated violence and in fact create the menacing atmosphere which leads to rape, murder and sexually aggravated assault? Is this type of freedom of expression acceptable? Do lyrics such as Honey Singh's not make rape acceptable as 'normal' behaviour?
For decades westerners have been travelling to India to fulfil their own spiritual aspirations. Indeed some of the greatest pioneers in Sanskrit, modern Indian vernaculars and Indology itself have been those from western countries, not India. Yet even here the spectre of sexual violence has not relented.
From petty eve teasing and lewdness to more sinister rape followed by beatings and even death, female tourists to India encounter the nefarious leviathan which regards all females as fair game for unwilling sexual intercourse.Is this the modernisation which India's leaders envisaged? Is this the image India wishes to portray to the world?
Important questions in the light of scant efforts being made to tackle the problem especially since law enforcement is saturated with negative attitudes towards women and as we have discussed is itself often the main culprit when Indian females face molestation and rape. Helped by a flourishing industry of once underground pornography, western women are seen as sexually loose and the natural outlet for an uncontrolled libido. Defending freedom of expression in all its forms is all well and dandy. But who is there to pick up the pieces when its social effects are unhealthy, unhygienic and the stuff of nightmares?
Between Democracy and Pornocracy
The almost complete silence of Hindu leadership on the question of how females are treated has allowed the domination on the subject by sometimes well-meaning useful idiots who constantly parade the west as the diametric opposite. Here of course the major Hindu groups who are so keen for state funding or private donations are again offering an almost complete wall of silence. The difference is that without the culture of 'shame' sex crimes and discrimination against females is discussed more openly. However should India emulate those societies as a an antidote to the present unacceptable situation? As we have seen the unrealistic celluloid images from Bollywood only feed into the frenzy. Not only that but western societies have their own inconvenient facts. Sweden is regarded as one of the most sexually open societies in the world. Yet in 2006 the country was condemned by Amnesty International for not doing enough to clamp down on rapists.
The lack of concepts such as 'shame' and 'honour' has done much to help women achieved social advancement. But look closer and this same process has helped social dysfunctionality and hyper-individualism. Alongside the 'empowerment' of political spin doctors there exists a parallel nightmare world, a dystopia of atomised individuals where having children are seen as the smartest and obvious route to state funded accommodation, welfare benefits and subsidised food. These environments are awash with abuse and instability supplemented by addiction to readily available cheap alcohol, drugs and television programmes which not just reflect but glorify the dysfunctional behemoth. Add to the already toxic mix readily available hardcore pornography and you now have a generation with not just a warped sense of females but a mindless vacuum in place of any iota of humanity. Hardcore pornography was once relegated to the recesses of what is known as 'smut'; epitomised by dirty old men in raincoats wandering around parks exposing themselves to hapless young females, frequenting public toilets, and buying magazines which could only be found on the top shelf. Now however the raincoats have been replaced by corporate advertising and the ubiquity of online sex means that it sets the norm for society. However porn like any drug promises the impossible. It does not reflect the real world. So like any social engineer the porn barons use their addicts to recreate it in their sacred image.
What this means in reality is a huge rise in the number of sexual assault cases in school. In America, Koss, Gidycz & Wisniewski published a study in 1987 where they interviewed approximately 6,000 college students on 32 college campuses nationwide. From this study 15% of college women answered "yes" to questions about whether they experienced something that met the definition of rape. 12% of women answered "yes" to questions about whether they experienced something that met the definition of attempted rape. In 1995 the CDC replicated part of this study but only examined actual rape.