Mistrust of security detail and fear of opposition siege in Damascus lead the Syrian president and his inner circle to sea, al-Watan reports.
Syrian President Bashar Assad has moved with his family and a select cadre of associates to a warship off Syria's coast, where he is being guarded by Russian naval forces, a Saudi daily reported.
The Russian protection effectively amounts to political asylum for the Syrian president, unnamed intelligence sources told the Saudi daily al-Watan. Assad now travels by helicopter to mainland Syria for official meetings in his presidential palace in Damascus, having lost faith in his security detail, the report said.
Assad has grown increasingly entrenched in the 22 months since the start of a popular uprising that has called for his ouster and claimed the lives of over 60,000 Syrians, according to UN figures. Russia has remained the regime's staunchest ally, vetoing international intervention at the UN Security Council.
Al-Watan previously reported that Iranian intelligence had succeeded in recruiting Assad's maternal cousin, Colonel Hafez Makhlouf — unbeknownst to Assad and his intelligence — causing the Syrian president deep concern regarding security breaches.
On Monday, government airships attacked an opposition stronghold in the Damascus suburb of Maadamiyeh, killing at least 13. Opposition activists described the raid as one of the heaviest barrages of the Damascus region since the government launched an offensive in November to dislodge rebels from the capital's outskirts.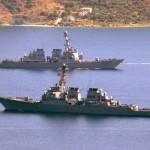 The intelligence sources told al-Watan that Assad's fear of opposition advances in the capital was among the reasons for his retreat to sea, which would allow for quick evacuation to Moscow if need be.
Russia has endorsed a speech by Assad last week in which he offered to end the crisis by calling national elections and forming a new government.