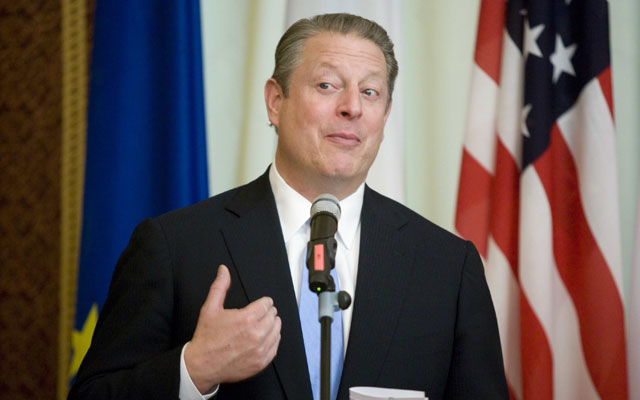 The sale of Al Gore's Current TV network to the Qatar-based Al Jazeera network comes as no surprise. These networks may be odd bedfellows, but there is no law on the books to prevent a foreign entity from buying an American cable network. Still, the move has caused considerable concern among those who worry about Al Jazeera's pro-Islamist influence.
The venture is off to a rocky start. As reported by the New York Post, Gore failed to show up for a meeting with executives from Al Jazeera, which just before New Year's invested $500 million in his failing television venture. And, according to the Post, Current TV's staff was appalled at meeting their new bosses, furious that their leader could sell them out to the Emir of Qatar, who owns and funds Al Jazeera with his country's ample oil revenue.
Until now, Current TV, which is greener than green, has not even accepted advertising from the oil industry. Whatever is left of Al Gore's veneer as environmental guru has surely evaporated as a result of this deal.
Selling Current TV must have been tempting, though. The network's ratings have been dismal from day one in 2005. It allegedly reaches 40 million households via cable subscription, but last year only pulled in $16.9 million in advertising revenue, and had between November and January only 22,000 viewers in prime time. (This compares to 700,000 for CNN.) It has been marred by scandals, such as hiring the highly erratic Keith Olbermann in January 2011 (he had previously been dismissed by MSNBC), only to fire him a few months later.
Current TV offerings have been shows like "Viewpoint with Eliot Spitzer" and "Joy Behar: Say Anything."
For Al Jazeera, meanwhile, the idea is to break into American media markets with news from an Arab point of view. The global Al Jazeera English online news channel has failed to do that, despite investing heavily in American and British television professionals. The online news channel is to be discontinued, and eventually Al Jazeera America is to emerge sometime this spring.
The common denominator for Current TV and Al Jazeera is a profound anti-American slant. Current TV is characterized by a strident left-leaning agenda, and Al Jazeera tends to ascribe the worst imperialist motives to any U.S. foreign policy move. Gore reportedly refused to sell the network to Glenn Beck, but found the Al Jazeera leadership more compatible. Anti-Americanism is not unheard of in American mainstream media, but there are limits, also shown by the lack of audience share of MSNBC. And anti-American bias coming from a foreign broadcaster delivered in strident tones straight to their living rooms will probably turn most Americans off.
Source material can be found at this site.