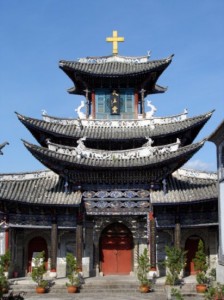 BEIJING — Chinese are embracing Christianity in a social revolution that is spreading through town and countryside to the point where Christians already may outnumber members of the Communist Party of China.
Visits to villages in backward rural provinces or to urban churches in Beijing, where even on weekdays the young and middle-aged gather to proclaim their faith, confirm the ease with which conversions can be won.
"City people have real problems, and mental pain, that they can't resolve on their own. So it's easy for us to convert these people to Christianity," said Xun Jinzhen, who preaches to customers at a beauty salon in Beijing.
"In the countryside, people are richer than before, but they still have problems with their health and in family relationships. Then it's also very easy to bring them to Christianity."
State-sanctioned Protestant and Catholic churches in China count up to 35 million followers, making Christianity the third most practiced religion in the country after Buddhism and Taoism. Islam ranks fourth.
Even more significant is a steadily growing network of underground or "house" churches, which are said to have up to 100 million members.
That compares with an official total of 70 million members of the Communist Party, many of whom have lost faith as the party has moved away from strict ideological principles toward increasing acceptance of free markets.
Among the known converts are at least a few of the most prominent figures from the 1989 Tiananmen Square pro-democracy demonstrations, most of whom are now living in exile.
These include Zhang Boli and Xiong Yan, both of whom were on a list of the 21 most-wanted student leaders that was published shortly after the Beijing massacre, and both of whom have been ordained as priests.
Another is Han Dongfang , who converted through the U.S.-Chinese church movement. He arrived in the United States in 1993 after being released from prison on medical grounds; he had contracted tuberculosis in a Chinese jail and nearly died.
"I think human beings need something at a spiritual level," he said in Hong Kong, where he discusses labor issues for Radio Free Asia. "We don't want to believe we are coming from nowhere, going nowhere."
As a teenager, he was a passionate Marxist but, as an army recruit, became disillusioned over the luxuries enjoyed by the officer class.
"When communism became this corrupted thing, which failed everybody, people still needed a belief. I think that's the reason for Christianity in China," he said.
One of the driving forces of Christianity's growth in China has been its association with healing powers, particularly in rural areas where basic health services are lacking.
One woman last month told a gathering of hundreds at Kuanjie, the official Protestant church in Beijing: "My brother's daughter had a virus, which doctors had never seen before.
"She was on a ventilator and everyone had lost hope. But I prayed for her, and she recovered. Now her family follows Christ, too."
The woman, 33, came from Anhui, a poor province of central China. In her village, she said, the house church had grown from five or six worshippers to 100 in five years.
Mr. Xun, the beauty parlor operator, sees the growth of religion as a response to the increased materialism that accompanied the economic reforms put into place by Deng Xiaoping.
"We have very few people who believe in communism as a faith, so there's an emptiness in their hearts," said Mr. Xun, 37. His mother also is a Christian, and his father, a retired county-level Communist Party secretary, is a sympathetic onlooker.
China's rulers are said to be ambivalent about Christianity's growth. Some see its emphasis on personal morality as a force for stability. House churches, which accept the authority of official organizations, are often left alone.
But many reject the party's control over Christian practice and doctrine, and these are seen as a threat. Overseas groups such as the London-based Christian Solidarity Worldwide say Christians are beaten regularly and one was killed in police custody.
Millions all over China convert to Christianity

,