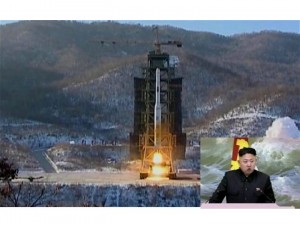 North Korea has stunned the world by announcing nuclear missile tests targeting its "arch-enemy" America.
The secretive hermit-like state released the news of the "high-level nuclear test" late last night.
The controversial move comes just two days after the UN Security Council condemned North Korea for recent rocket launches.
North Korea's National Defence Commission said in a statement: "We are not disguising the fact that the various satellites and long-range rockets that we will fire and the high-level nuclear test we will carry out are targeted at the United States."
The Communist state also vowed to push ahead with launches of more long-range rockets.
North Korea is believed to be "technically ready" for a third nuclear test, and the decision to go ahead rests with leader Kim Jong-un who pressed ahead with the December rocket launch in defiance of the UN sanctions.
The December launch was seen by the US and North Korea's neighbours as a banned test of long-range missile technology.
North Korea claimed the launch was to put a satellite into space for peaceful purposes.
But in last night's statement they hit out at sanctions against them saying: "Settling accounts with the US needs to be done with force, not with words."
Top US envoy Glyn Davies said: "Whether North Korea tests or not is up to North Korea.
"We hope they don't do it. We call on them not to do it.
"This is not a moment to increase tensions on the Korean peninsula."
The North was banned from developing missile and nuclear technology under sanctions dating from its 2006 and 2009 nuclear tests.