If Israel makes peace with the Palestinians, then the US will make war on Iran. Should Israel accept such hypothetical linkage known in shorthand as "settlements for Iran?" No way, says Zalman Shoval.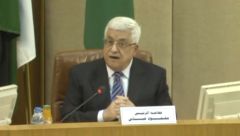 One of the basic assumptions in the aforementioned proposal is that blocking Iran's nuclear program is just an Israeli interest, and that U.S. military action against Iran would essentially be a "favor" to Israel. . .
In other words, it needs to be clear that if Washington remains unconvinced that an atomic bomb in the hands of the ayatollahs isn't a direct threat to the country or its essential interests — even if Israel never builds another house in Jerusalem and gives Palestinian Authority President Mahmoud Abbas control over the Western Wall — U.S. bomber aircraft won't be taking off at dawn.
Source material can be found at this site.