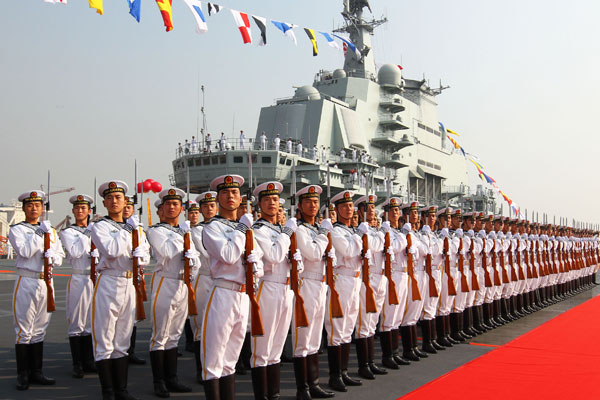 The Chinese yesterday announced new defense and internal security budgets. In keeping with the average double-digit annual increases of the past 20 years, Chinese military spending will rise by 10.7 percent.
These consistent massive increases, announced ahead of the 12th National People's Congress—the world's largest parliament—have allowed Chinese military modernization to gain by leaps and bounds since 1989. Its modernization ranges from the new aircraft carrier Liaoning to anti-ship ballistic missiles to mechanized airborne combat vehicles.
China's domestic security budget, while growing at a somewhat slower pace, will be larger than the military budget for the third year in a row. Chinese internal security spending will amount to 769.1 billion renminbi (approximately $123.6 billion), compared with 740.6 billion renminbi ($119 billion) for military programs.
This reflects the uneasiness that the Chinese leadership, past and present, feel about their ability to retain power. Both the People's Liberation Army and the security services are charged, first and foremost, with keeping the Chinese Communist Party in power, and the major increases in their combined spending suggests an incoming leadership that is increasingly worried about staying in charge.
The continued rapid rise in the defense and internal security budgets suggest that the Xi Jinping government is not likely to break with past party priorities. This conclusion will continue to stoke concerns among China's neighbors and American allies. While the U.S.military faces sequestration (on top of previous cuts), China's continues to grow and modernize on a compounded basis. Today, the U.S. military still retains a lead over the Chinese in capability and quality, but it is one that is steadily eroding in the face of the consistent, constant commitment of Chinese resources.
If these trends continue, however, U.S. leadership in the Asia–Pacific—the foundation of 70 years of peace, security and prosperity—will not be sustained.
Source material can be found at this site.