What pain has sequester wrought at the federal Department of Education? Apparently, not much.
The 4,200-person agency has just hired a new "executive director of the White House Initiative on Educational Excellence for African Americans." Fox News reports that the position apparently commands a six-figure salary, as the new director—a former aide to Representative Charlie Rangel (D–NY)—will receive a starting salary of $123,758.
President Obama signed an executive order to form the new White House Initiative on Educational Excellence for African Americans last July. The director will be "asked to identify evidence-based best practices to improve African-American student achievement from cradle to career."
Improving academic outcomes for students won't be accomplished by new federal initiatives or programs. History has proven as much over the past four-and-a-half decades. A near tripling of inflation-adjusted per-pupil federal spending, $2 trillion in federal spending on education since 1965, and the presence of 150 federal education programs have all failed to move the needle on student achievement or narrow achievement gaps between white and minority students.
By contrast, school choice has demonstrated time and again the many benefits that can be realized when students are given the opportunity to attend schools that meet their unique learning needs. Plush, taxpayer-funded positions at the Department of Education have not.
Policymakers need to be concerned about the educational opportunity of all students. Strong policy reforms have proliferated in states such as Florida, where a combination of school choice, academic transparency, and a strong focus on reading achievement have significantly narrowed the achievement gap. And in Washington, D.C., home to the D.C. Opportunity Scholarship Program, low-income children have access to vouchers to attend a private school of their choice. This has led to a 91 percent graduation rate for participating students, an outcome that means they're more likely to be on the path to successful careers and a brighter overall future.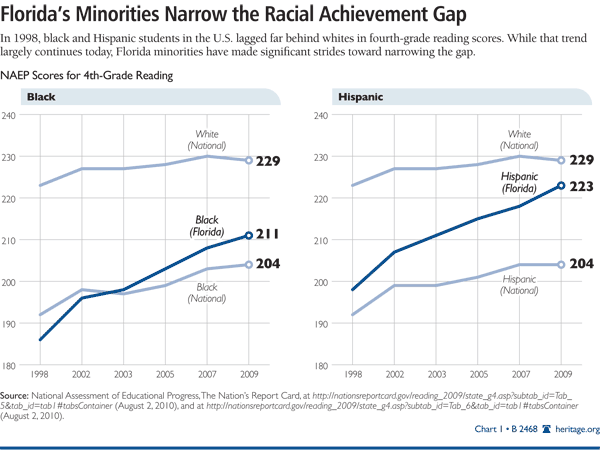 Source material can be found at this site.