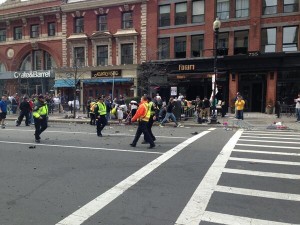 Two explosions were heard near the finish line of the Boston Marathon on Monday.
According to Fox News, at least three people were killed following a large explosion, then smaller one, a short while later. At least three people are dead and dozens injured – including up to 10 with amputated limbs
It happened around 2:45 p.m. outside Marathon Sports on Boylston Street, according to WBZ-TV's Lisa Hughes, who was near the scene covering the marathon.
There were two "incredibly powerful explosions just seconds apart," according to Hughes.
Video from the finish line showed screams and an enormous cloud of white smoke, and about 20 seconds between the blasts. The Associated Press reported that bloody spectators were being carried to a medical tent that had been set up to care for tired runners.
Jackie Bruno, a reporter for New England Cable News, said on Twitter that she saw people's legs blown off.
"Runners were coming in and saw unspeakable horror," she said.
A Fox reporter on the scene says the explosions came from the middle of a building. Police are checking to see whether explosive devices were placed in trash cans.
Hotels and restaurants are locked down while authorities secure the area.
Boston police confirmed there was an incident but did not immediately give details. Police, fire and medical technicians were responding. New England Cable News reported that the emergency response came within seconds.
Federal authorities told NBC News that they had no immediate information.
The explosions happened near the end of the race when the slower runners would be crossing the finish line, in an area where many people were congregating. It looked like a scene strait out of the middle east.
This is Patriot's Day, which commemorates the battles of Lexington and Concord, fought near Boston in 1775. Patriot's Day is annually held on the third Monday of April. It is unknown at this time if Islamic terrorist are responsible for the attack today on Boston.
[youtube 8cXuzW0QtIY nolink]
[youtube Ew4oxkggNEw nolink]