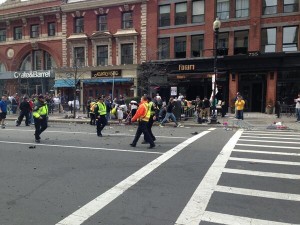 Two explosions rocked Boston today at the finish line of the Boston Marathon. Local and federal authorities are working to secure the area and investigate the bombings. We will soon know more details and be able to decide on what the best policies are in response. For now, as a nation, our focus and thoughts should be with all those affected. The top priority must be taking care of the victims and ensuring that first responders can do their job.
Heritage Foundation President Jim DeMint said "Our thoughts and prayers are with the Boston Marathon explosion victims and their families. Thanks to the police, fire fighters, and other public servants courageously responding to the dangerous scene."
Relatives of people who may be missing can call the Boston mayor's hotline at 617-635-4500. Tips about the bombings or sightings of anything suspicious 1-800-494-TIPS. If individuals have concerns about conditions in their community they should contact local public safety officials.
So far, we know that two bombs went off earlier today at the finish line of the Boston Marathon. Suspicious devices have also been reported at other locations. As of now, at least two people are confirmed dead, and at least 50 wounded.
Cell phone service has reportedly been overwhelmed and local transit system shut down. Air traffic has been shut down in a three nautical mile radius over the area. Boston's SWAT team as well as 400 Massachusetts National Guard and two Civil Support teams are on the scene, and the Coast Guard is standing by.
Source material can be found at this site.