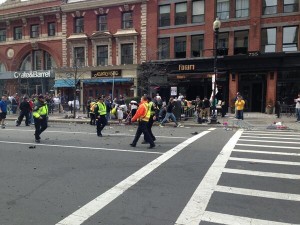 Authorities say they are searching for a darker skinned or black male with a black backpack and black sweatshirt, possibly foreign national from the accent of the individual. Five minutes before the first explosion, officials said this person attempted to gain entry to a restricted area. When turned away, he broke eye contact and pulled his sweatshirt hood over his head and left, officials said.
Law enforcement is also looking for a yellow Penske box truck that tried to gain access with "medical supplies" approximately 1 hour after the explosion.
The Federal Aviation Administration has created a no-fly zone over the area, while security at key sites in Washington DC and New York has been tightened.
The devices, based on examination of post-strike video, appear to have been small and may have been concealed in small bags or boxes, officials said. The size of the device can be judged by the lack of structural damage to the windows and buildings adjacent to the blast sites, they explained. The smoke seen after detonation was consistent with the results of a low-velocity improvised explosive mixture, perhaps something like flash powder or a sugar chlorate mixture. Based on the relatively small number of casualties and the types of wounds caused, it is likely that the attackers packed the devices with nails or other improvised shrapnel.
Competitors and race volunteers were crying as they fled the chaos. Bloody spectators were being carried to the medical tent that had been set up to care for fatigued runners.
Roupen Bastajian, a 35-year-old state trooper from Greenville, R.I., had just finished the race when they put the heat blanket wrap on him and he heard the first blast.
"I started running toward the blast. And there were people all over the floor," he said. "We started grabbing tourniquets and started tying legs. A lot of people amputated. … At least 25 to 30 people have at least one leg missing, or an ankle missing, or two legs missing."
UPDATE:
An arrest has been made in connection with the Boston Marathon bombings that left three killed and more than 170 injured, CNN reports.
A breakthrough in the case occurred when law enforcement officials identified a suspect in by analyzing video from a department store located near the site of the second explosion, CNN reports.
The video, from a Lord and Taylor department store, shows an individual reportedly placing a black bag at the site of the second explosion and then leaving, CNN reports.
When asked for a physical description of the suspect, reporter John King said: "I was told this was a dark skinned male." He declined to give further detail.
"I want to stop there," King said. "Given the sensitivity of these things."
FBI Looking For Black Or Dark-Skinned Man With Foreign Accent, Black Backpack & Black Sweatshirt In Connection With Boston Bombings

,