CENSORED: 'ISLAMIST' NOW TABOO
AP Caves to Political Correctness, Shariah
DEMAND CONGRESS FIGHT FOR THE CONSTITUTION AGAINST THE RISE OF SHARIAH LAW IN AMERICA
RE-INTRODUCE AND PASS H.R. 973 NOW!
"If freedom of speech is taken away, then dumb and silent we may be led, like sheep to the slaughter." – George Washington
URGENT ALERT:
The Associated Press – America's dominant news outlet for liberals – is again traducing a basic principle of free speech by blacklisting the term "Islamist" from its journalistic practice, no doubt in the hopes of eliminating it from the rest of mainstream media reporting as well.
This "stylebook" change comes just days after the AP deemed "illegal immigrant" too offensive to use, too. Surely such a decision will resolve any lingering doubt about the legacy media's all-out ASSAULT on AMERICAN FREE SPEECH and the ascendancy of political correctness – as well as the dizzying rise of capitulation to Shariah in U.S. corporate practices.
Lest someone, somewhere for whatever reason MIGHT BE OFFENDED the AP in its "wisdom" has determined that "Islamist" should NOT be used as "a synonym for Islamic fighters, militants, extremists or radicals."
WHO DO THE GOONS AT THE AP THINK THEY ARE TO MANIPULATE AMERICA'S FREE SPEECH TO APPEASE THE FEELINGS OF AMERICA'S ENEMIES WHO HATE EVERYTHING WE STAND FOR EXCEPT FREEDOM OF RELIGION WHEN IT COMES TO THEIR OWN?!
STOP SHARIAH LAW IN THE U.S. – RE-INTRODUCE H.R. 973
TELL CONGRESS TO HALT THE POLITICAL CORRECTNESS!
AMERICA ADHERES TO THE CONSTITUTION NOT THE KORAN
Now, I'm not sure if the AP realizes it or not – most likely they do and just DON'T CARE for journalistic integrity or any other form of integrity for that matter – but "ISLAMIST," was originally added to their stylebook in 2012 and defined by THEM – the AP – as a
"supporter of government in accord with the laws of Islam. Those who view the Quran as a political model encompassing a wide range of Muslims, from mainstream politicians to militants known as jihadi."
We KNOW we are SUPPOSED to just struggle to convey our relief that ISLAMISTS will no longer be offended and that their SUPPORTERS AND ENABLERS IN THE MAINSTREAM MEDIA will no longer feel guilty unsetting people who hate Western Civilization and want to see it slashed to death under their medieval swords… but somehow, we just cannot get with the program!
NO, THIS IS DANGEROUS P.C. PANDERING AND APPEASEMENT, AND IT MUST STOP!
As a nation founded on FREE SPEECH especially as it relates to the PRESS, this SOFT CENSORSHIP is an abomination – but here's where the style change gets extra interesting…
You see, our well-connected and well-funded ISLAMIST opponents at the Council on American-Islamic Relations (CAIR) are behind it! Surprise, surprise!
In a January op-ed, the ISLAMIST group's communication director, Ibrahim Hooper, wrote that the term "has become shorthand for 'Muslims we don't like'" and "is currently used in an almost exclusively pejorative context." IMAGINE THAT – ISLAMIST, which describes those
JIHADI
just hellbent on KILLING Westerners and taking over our Christian nations with Shariah law, isn't exclusively used in a context that's all rainbows and butterflies, or in making excuses for them as the 'victims' of colonialism or some such nonsense! But that's all about to change because the shiny, new AP definition reads:
An advocate or supporter of a political movement that favors reordering government and society in accordance with laws prescribed by Islam. Do not use as a synonym for Islamic fighters, militants, extremists or radicals, who may or may not be Islamists.

Where possible, be specific and use the name of militant affiliations: al-Qaida-linked, Hezbollah, Taliban, etc. Those who view the Quran as a political model encompass a wide range of Muslims, from mainstream politicians to militants known as jihadi.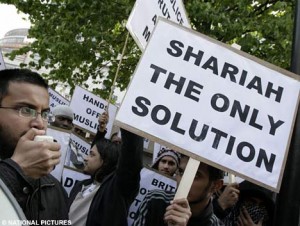 The irony here is that "ISLAMIC FIGHTERS, MILITANTS, EXTREMISTS OR RADICALS" ARE FIGHTING FOR THE SUPREME RULE OF ISLAM!
And we are supposed to pretend that "jihad" doesn't mean what these Islamists trying to kill us say it means – holy war.
Ah, but their more careful, Western-savvy propagandists like Ibrahim Hooper of CAIR like to say their political beliefs and goals (global conquest and annihilation of the West) are simply an expression of Islamic religious belief (global conquest and annihilation of Judaism/Jews and Christianity/Christians)! This is like playing "Chicken or Egg" on which came first – except Shariah and the Koran assures the game ends with DEATH. And the idiot LIBERALS remain obsessed with not wanting to hurt the 'feelings' of THOSE WHO SEEK TO SUBJUGATE AND KILL US AND/OR TAKE OVER OUR COUNTRY!
This is stealth Shariah and jihad emerging in full flower.
If you'll recall, recently a leader of the terrorist-tied Council on American-Islamic Relations told a Muslim crowd at a "Muslim Capitol Day" rally in Austin, Texas that MUSLIMS LIVING IN AMERICA SHOULD NOT BE BOUND BY THE CONSTITUTION OF THIS COUNTRY!
"If we are practicing Muslims, we are above the law of the land," said Hamas-defender Mustafa Carroll, executive director of the Dallas-Fort Worth CAIR branch.
AND NOW THE "RIGHT" OF ISLAMISTS TO INFILTRATE AMERICA'S POLITICS, LEGAL SYSTEM AND WAY OF LIFE WITH SHARIAH LAW IS ACTIVELY BEING SOUGHT NATIONWIDE, SO THEY WILL BE GIVEN EXTRA-CONSTITUTIONAL LEGAL STATUS AND PROTECTION!
It is happening in Great Britain and Western Europe… don't think that it cannot happen here.
The purpose of "Muslim Capitol Day"?
Well, according to its website, it was to rally Muslims from around Texas to "promote civic and political activism throughout the wide Muslim community."
But here's the problem…
THEIR IDEA OF "PROMOTING CIVIC AND POLITICAL ACTIVISM" IN FACT AMOUNTS TO THE PROMOTION OF SHARIAH "RIGHTS" AND JIHADIST ACTIVISM – INCLUDING SEDITIOUS DISLOYALTY AGAINST THE CONSTITUTION AND LAWS OF THESE UNITED STATES!

As reported by WND.com, the organizers of this rally said one major issue discussed "was the recent House and Senate bill proposals involving the implementation of 'anti-Shariah' legislation, where the First Amendment rights and freedoms of Muslims would ultimately be hindered."
That would be H.R. 973 – THEY ARE HEARING YOUR DEMAND BEING MADE ON CAPITOL HILL AND NOW THEY ARE TRYING TO MOUNT RESISTANCE AGAINST COMMON SENSE PROTECTIONS OF OUR CONSTITUTION IN ORDER TO MAKE SHARIAH LAW THE SUPREME LAW OF THE LAND!
As you are well aware, Shariah law PROHIBITS FREEDOM OF RELIGION for non-Muslims. Indeed, Shariah law mandates the PUNISHMENT, TORTURE AND EXECUTION OF NON-BELIEVERS OR INFIDELS!
Remember, CAIR is the SAME organization whose co-founder and former chairman Omar M. Ahmad was quoted as saying publicly that "Islam isn't in America to be equal to any other faith, but to become dominant" and the Koran "should be the highest authority in America, and Islam the only accepted religion on Earth."
"We tried to downplay Shariah, because we didn't want to give the other side any excitement for being here," he said.
But guess what, Shariah IS here – and now its Islamist backers aren't even bothering to fly beneath the radar! Oh no, they are aggressively taking advantage of their empathizers in the mainstream media like the Associated Press, the Oval Office and on the Capitol Hill to force Shariah on America!
My friend, Assistant Secretary of Defense in the Reagan Administration Frank Gaffney, founder of the Center for Security Policy in Washington, DC, confirmed to WND that Carrol's declaration of Islamic supremacy and Muslims being "above the law of the land" was CONSISTENT WITH THE TEACHINGS OF THE KORAN AND SHARIAH.
"When you hear one of their speakers say, we are above the law of the land – take it to the bank. That is what they really believe," he said. "That is what all Muslims believe. That is what Shariah teaches. To the extent that Muslims adhere to Shariah, they are obliged to try and impose it on the rest of us."
The organized spread of Shariah is what Gaffney calls "civilization jihad."
It's what WE call UNACCEPTABLE – AND IT MUST BE STOPPED NOW!
THIS IS OUR WAKE-UP CALL, AMERICA!
Jihadi Islam is here and its terrorist practitioners among us! We must stand against barbarous Shariah and jihadis already on our soil by demanding H.R. 973 be re-introduced and enacted, be served to violators of the Constitution of THIS COUNTRY!
There are roughly 1.4 MILLION Muslims in the United States.
And there are right now Islamist clerics calling for their followers among these to ruthlessly and relentlessly turn on us Christian 'infidels' right here in the United States – in our cities, our towns and in our suburbs.
Jihadi forums like Shumoukh al-Islam are calling for Muslims living in Europe and the U.S. to behead Westerners who criticize Islam and display the heads along roads in order to intimidate and deter us from insulting the prophet Muhammad. These forums are only a few steps further along the path of Muslim supremacy than the CAIR rally in jihadi, pro-Shariah, anti-American Islamist extremism.
We are slowly losing our ability to resist the Islamization of our country with the creeping Shariah infiltration of our media, our schools, our judicial system and our government at every level in the name of inclusiveness.
Increasingly in Obama's America – led by its pro-Islam, appeaser-in-chief (especially when it comes to kowtowing to Muslim terrorist groups) – all three branches of government are truckling for approval from international Islamists, organized Muslim interests, and Shariah Law Compliance Committees.
This co-optation is so bad now that it is not just college campuses and global financial institutions, it is our police agencies, courts, anti-terror, national security and the U.S. military itself complying with the Obama standards of Islamic-dictated subservience! And when our soldiers and police officers fight back against creeping Shariah, they are told to stand down and stay silent!
The AP style change forbidding the proper use of "Islamist" to describe jihadis, like the Texas CAIR rally, is typical of Shariah-driven efforts to chill Western, Christian speech and practice, forcing Islam into American culture on ISLAM'S terms without accepting the decent standards of Christendom, of democracy, of human equality. Shariah's strategic objective is to DESTROY WESTERN CIVILIZATION – starting with the United States.
The U.S. Constitution has been in peril ever since Barack Obama first forswore the oath of office more than four years ago, but now he is facilitating both violent and stealth jihad determined to institute Shariah law into our country via its mosques and our prisons, schools, media, government, courts and even financial institutions.
"ALLAH IS OUR OBJECTIVE, MUHAMMAD IS OUR PROPHET, THE QUR'AN IS OUR LAW, JIHAD IS OUR WAY, AND DYING IN THE WAY OF ALLAH IS OUR HIGHEST ASPIRATION!"
That is the Muslim Brotherhood motto. And that is what Barack Hussein Obama is supporting in Egypt and throughout the Middle East – and AT HOME IN THE U.S.A. – with your tax dollars. We must stop Obama and the left from facilitating the stealthy Shariah penetration of our country's institutions – and those of other Western countries, as well.
Shariah law is a harsh, extreme Muslim legal and societal code straight from the Middle Ages:
It encourages husbands to beat their wives.
It allows Muslim men to marry more than one wife, including "child brides" of only a few years old!
It calls for "eye for an eye" revenge rather than justice.
It commands torture for those convicted of crimes, including cutting off hands or feet, mutilation, and even crucifixion.
It demands that "adulterers" – including innocent victims of rape – be stoned to death.
It says anyone critical of Islam or Muhammad must be killed.
It calls for the deaths of "apostates" – that is, anyone who leaves Islam.
It commands violent jihad and the total subjugation or annihilation of all religions other than Islam.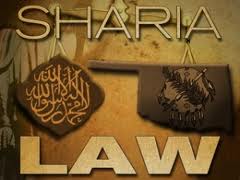 Shariah law is quickly entwining its deadly tentacles through our public schools, our courts, our society.
That's why you must, for the survival of the United States of America, help stop Shariah here and now.
Islamists have declared war against you, me, and all freedom-loving Americans on multiple fronts.
Make no mistake: WE ARE UNDER ATTACK – Appeasement and capitulation to Islamism and Shariah is NOT the answer!
Radical Islamism, with its essential, incestuous relationship to the deadly dictates of Shariah law, represents a mortal threat to the sovereignty of the constitutional republic we know as the United States of America – particularly if our own government refuses to speak the truth about its ideology and agenda.
But naked force is NOT the only weapon of Islam's arsenal. In nations like ours, where they are yet a relatively small minority, Muslims rely on stealth jihad. And that is accomplished through the imposition of Shariah, the Islamic legal system that demands death for those who oppose Islam and its many legalistic dictates.
Stealth jihad's objective is conquest of Christendom; to culminate in the destruction of Western culture and to supplant it with Islam. You see, Islamic Shariah is the antithesis of American constitutional law. In order for Shariah to thrive, personal freedom and liberty must die. That is exactly the goal of Islamists in America – and they are making tremendous headway.
The simple truth is: you cannot allow this destruction of the U.S. Constitution to continue. You must help stop Shariah!
Florida's former U.S. Rep. Sandy Adams introduced H.R. 973 in the last Congress which forbids foreign law – including Shariah – from our United States court system. The 113th Congress MUST re-introduce this legislation and enact it into law!
I say, let's begin a nationwide tidal wave of anti-Shariah, pro-Constitution action to battle against both open and stealth Islamic jihad in America.
Even if you have faxed before, PLEASE send your fax Petition to the House and Senate leadership – or better, the entire Congress – demanding that they defend our God-given natural rights and our U.S. Constitution's foundational legal protections by supporting H.R. 973 to stop Shariah.
As you can see from the AP capitulation, we are NOT yet winning the public relations and public opinion battle on the Islamist Shariah threat in America!
And let's DEMAND that political correctness get the boot from considerations of national security and national defense preparedness!
With all the economic disarray confronting legislators today, America's accelerating culture war with Shariah – portending major implications for freedom and national defense – is being largely overlooked! It is imperative that we inundate Congress, especially House and Senate Republican offices, with faxed petitions as soon as possible demanding action in stopping Shariah law NOW.
My friend, don't delay. The forces of anti-Semitic, anti-Christian, anti-American Shariah are hard at work right now, to
weaken and destroy all that is good and decent in our country
. It is critically necessary that you respond today, before the Islamists further diminish your constitutional liberties… in pursuit of their plan to turn you and your children into a
dhimmi
subject or literal slave of an Islamic state.
This is a battle for America! And when you send your faxed petition, please don't forget to add a generous gift to help us expand our fight. Your donations enable us to pursue our many liberty-defending, freedom-promoting projects. A gift today of $25, $50, or $100 will go a long way to not only educate the public about the stealth jihad war being waged upon us by Shariah law, but to also help defray our costs as we lobby on Capitol Hill to stop the Islamization of America.
We CAN stop the Islamic jihadists who are, right this very moment, shredding the U.S. Constitution in their crazed attacks on freedom, liberty, security. But time is short to contain the damage to our great country. Shariah must be stopped today.
STOP SHARIAH LAW IN THE U.S. – RE-INTRODUCE H.R. 973
TELL CONGRESS TO HALT THE POLITICAL CORRECTNESS!
AMERICA ADHERES TO THE CONSTITUTION NOT THE KORAN
Keep Faith,
Alan Keyes
P.S. Islamism aggression and Shariah pose a threat to America's survival as a constitutional republic in an insidious fashion no penetrating alien ideology has ever posed before. In fact, through Islamic Shariah law, every last vestige of your freedom – and that of your children – could be stripped from you and shackles of bondage clamped upon your wrists. Now is the time to stand … now is the time to act. Please fax your petition to Congress today, and add a generous gift to enable us to reach more Americans, and better defend your rights and freedom from those – like the purveyors of Islamic Shariah – who are hard at work devising plans to steal your liberty for all time.