Friends of accused Boston bomber taken into custody in New Bedford, Mass.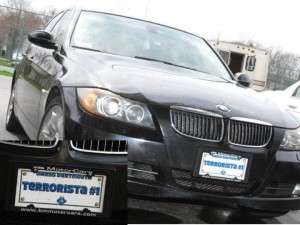 Azmat and Diaz — as they're known to their neighbors — were cuffed and hauled out of their apartment shortly before 4 p.m. on Saturday.
Two foreign nationals — who are believed to be associates of the alleged Boston Marathon bombers — were arrested Saturday on immigration violations, authorities said.
The men, identified by neighbors as 19-year-olds from Kazakhstan, drove around in a black BMW with the mock license plate, "TERROISTA #1."
The pair was hauled out of their New Bedford apartment in handcuffs about 3:50 p.m. Agents also escorted a woman out of the home and placed her in a vehicle with diplomatic plates.
The three were taken into custody Friday evening — but let go early Saturday. What led authorities to them was unclear, but their car's license plate had raised eyebrows on their quiet block near the University of Massachusetts at Dartmouth, where Dzhokhar Tsarnaev is a student.