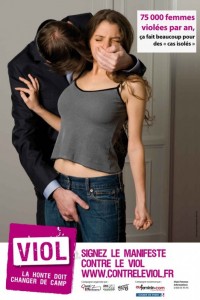 PARIS — A French jury handed down light sentences and acquittals in a closely watched gang-rape case late Wednesday, prompting outrage from women's advocacy groups and consternation from government ministers.
Fourteen men were accused of participating in repeated rapes of two teenage girls in the housing projects of Fontenay-sous-Bois, outside Paris, from 1999 to 2001. The victims, now 29, reported being surrounded and raped by as many as two dozen aggressors at once.
Ten of the 14 defendants, all minors at the time the crimes were said to have occurred, were acquitted Wednesday. More worrisome to critics, however, were the relatively light sentences for the four men who were convicted of gang rapes: two were given a year in prison; the third, six months; and the fourth, a suspended sentence. Under French law, minors convicted of gang rape can receive terms as long as 10 years in prison.
Similar gang rapes have been reported in the country's poor suburbs in recent years. The crimes are viewed as the violent expression of a misogyny that is often described as deep and pervasive in those communities.
Najat Vallaud-Belkacem, the junior minister for women's rights and the government spokeswoman, spoke Thursday of the "anger inspired by the atrocity of these crimes."Speaking on France Inter radio, the social affairs and health minister, Marisol Touraine, said, "Obviously, this affair is not going to encourage victims to declare themselves."
A lawyer for the two women who brought the rape complaint, Laure Heinich-Luijer, said that given the lack of physical evidence in the case and the confusion and hesitation in the women's testimony, the acquittals in the case were "understandable." But for the men who were convicted, Ms. Heinich-Luijer said, "these are sentences that make no sense."
Feminist groups in France reacted angrily. "This verdict sends a catastrophic message to the whole of our society," said the organization Osez le Féminisme in a statement. "To rape victims: bringing a complaint is useless. To rapists: you're allowed to rape!"
The group said that only a small minority of the 75,000 women it estimates are raped each year in France complain to the authorities.
Another advocacy group, Ni Putes Ni Soumises (Neither Whores Nor Submissives), said it was "scandalized" by the verdict. "The girls who dare to finally speak, and who step out of their silence, find themselves newly condemned by a justice system that has not heard them," the group said.
Ms. Heinich-Luijer said it was not clear whether prosecutors would appeal the verdicts. Lawyers for the defendants did not respond to repeated requests for comment.
One of the women, identified as Nina, brought her complaint in 2005, saying she had been raped by dozens of local teenage boys almost daily for six months beginning in September 1999, according to Ms. Heinich-Luijer. Nina, who was then 15, said she was forced to perform sex acts in apartments, in basements, in a public park and on the roofs of housing towers.
The four convictions in the case were solely for acts committed against Nina, not for any described by the other woman, identified as Aurélie. In an interview on Europe 1 radio on Thursday, Aurélie said she regretted having gone to court. "What good is it to bring a complaint if you end up with results like this?" she asked. "I just wanted to be recognized as a victim."
One of the convicted defendants, identified in the French news media as Mahamadou Doucouré, is awaiting trial in the killing of his wife and is said to have confessed to her 2010 stabbing death.
Mr. Doucouré's penchant for violence was ultimately behind Nina's decision to tell the authorities about the rapes, years after they had ceased: In October 2005, he assaulted Nina in the street, breaking her nose and leaving her unconscious. She went to the police about that attack, Ms. Heinich-Luijer said, and the officer taking her statement asked whether she wished to report anything else. She said that she did.
SEE ALSO:
Muslim Rape Epidemic Puts Sweden at Top of Euro Rape Statistics
SPAIN: Women are terrified to go out of their houses after 8PM because they fear Muslims will rape them
Muslim Child-Rape Gangs in Britain
Religion of Rape… All Norwegian Rapists in 2010 Were Muslim
Oslo Rape Wave So Bad Hotels Pass Out Keychain Alarms
Muslims raped Coptic Christians women in Egypt in the day time while screaming Allah is great