President Barack Obama signaled Tuesday he would consider U.S. military action against Syria if "hard, effective evidence" is found to bolster intelligence that chemical weapons have been used in the 2-year-old civil war. But Obama made clear he would prefer to have the backing of the international community before escalating American involvement.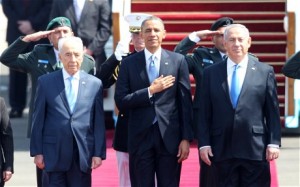 In a White House news conference, Obama appealed for patience, saying he needs more conclusive evidence about how and when chemical weapons detected by U.S. intelligence agencies were used and who deployed them. If those questions can be answered, Obama said he would consider potential actions the Pentagon and intelligence community have readied for him in the event Syria has crossed his chemical weapons "red line."
"There are options that are available to me that are on the shelf right now that we have not deployed," he told reporters packed into the White House briefing room. Those options include setting up a protective "no-fly zone" over Syria, creating a humanitarian corridor at the Turkish border or providing weapons directly to the rebels.
However, the president hinted the U.S. may not take any of those steps unilaterally. Part of the rationale for building a stronger chemical weapons case against Syrian President Bashar Assad, Obama said, is to avoid being in a position "where we can't mobilize the international community to support what we do."
Obama has resisted calls to expand U.S. assistance beyond the nonlethal aid the government is providing the rebels. That has frustrated some allies as well as some U.S. lawmakers, who say the deaths of 70,000 Syrians should warrant a more robust American response.
Tuesday's wide-ranging news conference coincided with the 100-day mark of Obama's second term. It's a stretch that has been defined by the defeat of gun control legislation he supported, as well as the continuation of old disputes that marked the president's first four years in office, including the Syria conflict and the launching of his controversial health care overhaul.
Asked if he still had "the juice" to get legislation approved, he smiled and paraphrased Mark Twain's famous line, saying, "Rumors of my demise may be a little exaggerated at this point. "
Another issue that frustrated Obama in his first term resurfaced when he was pressed about the hunger strike at Guantanamo Bay, the detention center he promised to close but hasn't been able to. Obama said he would make another run at it, though he was vague about how.
"I'm going to go back at this," he said. "I've asked my team to review everything that's currently being done in Guantanamo, everything that we can do administratively, and I'm going to re-engage with Congress to try to make the case that this is not something that's in the best interest of the American people."
Read More: Here