One of One of Obama's top fundraisers, Penny Pritzker is now the President's nominee to be US Secretary of Business…oops….I mean Secretary of Commerce. Ms. Pritzker hails from the Chicago Pritzker's who claim 11 spots on the Forbes Richest Americans List. Ms. Pritzker's long and sordid history of contemptible if not criminal business expertise should fit in well with the Obama Chicago syndicate running the Executive Branch. As the old adage goes, behind every great fortune, is a great crime. .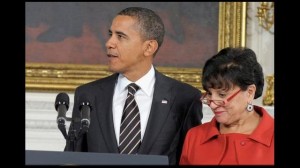 Ms. Pritzker has an estimated net worth is $1.8 billion "hard-earned" dollars acquired in the fields of banking, finance, hotel ownership/management and consumer credit scoring. Aside from her well-documented loyalty to raising obscene amounts of campaign cash for Obama, Ms. Pritzker, a former member of the President's Economic Advisory Board, has made a career out of enriching herself at taxpayer expense.
In 2001, long before sub-prime mortgage fraud was on Americans radar, Ms. Pritzker was responsible for tanking Superior Bank of Chicago. Superior, formerly Lyons Savings Bank is a Chicago thrift the federal government sold to the Pritzker Family back in 1988 for $42.5 million and $645 million in tax credits.
In reality, the Pritzker's had only to come up with $1 million in cash to gain access to the $645 million in FDIC insured deposits at Lyons. Talk about a sweetheart deal. Never the less, Penny Pritzker's stewardship of the bank and her innovative use of sub-prime and predatory lending eventually led to Superiors failure, a RICO suit (in which Ms. Pritzker was a defendant) and a deal with the Federal government for the Pritzkers to repay $416 million dollars interest free. To date, Pritzker has only reimbursed $316 million of the settlement and the government has agreed to forgive the balance, meanwhile bank depositors go uncompensated for their losses.
Some financial experts claim it was the financial engineering of the Pritzker's, Ernst and Young and Merrill Lynch that pioneered and created the model for selling bonds securitized by sub-prime mortgages using FDIC insured deposits as a cash cow; the very same profiteering that caused our "Wall Street Meltdown." It is also worth noting that federal bank investigators found that Superior, while failing, paid its owners huge dividends and executed questionable loans all hidden by complex and yes, illegal accounting methods. All in a period of relatively low interest rates, low unemployment and sustained economic growth.
The White House conveniently excluded some of Ms. Pritzker's more nefarious business accomplishments during yesterday's nomination announcement. Apparently, one of Ms. Pritzker's family-owned and operated businesses Trans Union LLC of Chicago has played a role in several illegal data theft, fraud and breach of contract suits brought against the credit rating agency, by several Trans Union franchises. According to reports, Trans Union LLC of Chicago allegedly data mined and sold Trans Union franchisees customer information to the who's who of big commercial banking without the knowledge and permission of smaller affiliated credit-reporting agencies. Of course, the lawsuit settlement negotiations were private at the insistence of the Pritzker family attorneys.
Penny Pritzker, while acting President of the Pritzker Realty Group, also found time to serve as then Chicago Mayor Daley's Chairperson of his Olympic Village Subcommittee. Had Mayor Daily and Barrack Obama managed to secure the 2016 Olympic bid, Ms. Pritzker's real estate group would have secured millions of dollars in Olympic City project development. Now she will have to settle for US Secretary of Commerce.
President Obama is asking to have Penny Pritzker confirmed as US Commerce Secretary. It is amazing what hundreds of millions of dollars of campaign fund raising can buy nowadays. The upcoming confirmation hearings and the left wing media coverage should prove to be very interesting. I wonder how Obama will manage to defend his nominee against the liberal rich guy demagoguery that was used against Mitt Romney during the last Presidential Election. Perhaps they will play the old misogyny card.
By the way, there is a rumor floating around certain circle that Ms. Pritzker, acting in the absence of Tony Rezko, has been busy engineering a deal on a $35 million dollar Hawaiian estate for the Obama's when the Presidents term concludes. That is a lot of house for a man that has earns a $400 thousand dollar salary for the past five years.
Welcome to Chicago.