May 5, 2013 18:51
by Simon Plosker
The BBC has noticeably failed to acknowledge that acts of terror against Israeli civilians are exactly that, and that Palestinians who murderously target Israeli civilians with knives, rockets and suicide bombs are terrorists.
However the BBC has discovered the "T" word courtesy of the despicable Syrian regime of Bashar al Assad that is responsible for indiscriminately killing men, women and children in a civil war that has cost the lives of some 70,000 people over the past three years.
Yes, that's right – Israel is the one associated with terrorists. And how do we know? The Syrians said so.
Take a look at BBC News website's homepage: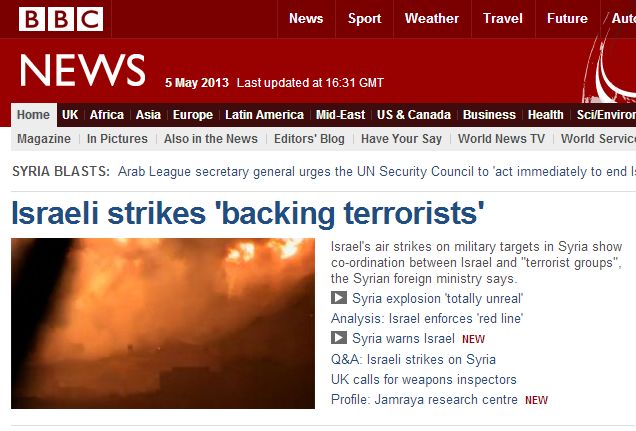 And the article itself: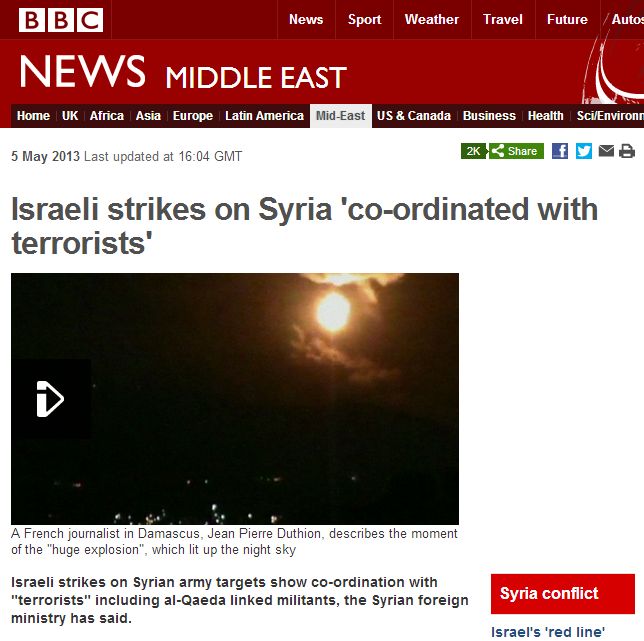 That's an awful lot of terror for the BBC that appears to be taking the propaganda of the Syrian regime just a little bit too seriously.
Could the BBC's headline writers be any more pathetic?
Take action now. Send your complaints through the BBC Complaints website – www.bbc.co.uk/complaints. For detailed instructions on how to navigate the BBC Complaints website, click here.
Please Tweet, Like or link to this article on your blog or website. This article is only effective if it reaches a large readership, especially through the Google search engine. Creating a link to this page with the text "BBC Syria Terror Headline" helps this article reach the first page search results for the term. 
Source material can be found at this site.