The lawyer of former Egyptian President Hosni Mubarak denied on Sunday that a recent interview with the deposed president, published in the privately-owned Egyptian daily Al-Watan, took place.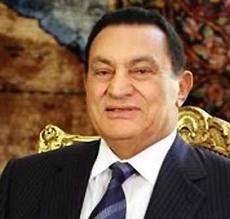 The lawyer, Farid El-Deeb, told the Egyptian daily Al-Ahram that the interview was a fabrication.
The interview with Mubarak by journalist Mohamed El-Sheikh attracted mass attention as it was the first time that the deposed leader had spoken to the press since he left power in February 2011.
Mubarak is currently facing a retrial on charges related to the deaths of protesters during the January 2011 uprising, after a successful appeal against a first conviction.
"The whole interview is a lie; I talked to the president [Hosni Mubarak] and he affirmed that he never spoke to the journalist," El-Deeb told Al-Ahram, adding that the photos attached to the interview prove nothing.
The pictures show the journalist in front of a plane and inside an ambulance.
"Who knows where these pictures were taken," said El-Deeb. Of a third picture showing Mubarak being moved on a stretcher, he commented, "There are more than 5,000 pictures of that moment."
El-Sheikh stated in the article that the interview took place in the waiting room of the court where a session in Mubarak's trial was held on Saturday, but he did not specify whether it took place before or after the session, noted Al-Ahram.
In the interview, Mubarak abstained from judging his successor, President Mohammed Morsi, saying it was too early to judge him.
The journalist further quoted Mubarak as saying he felt sorry for the poor in Egypt, adding that nothing hurts him more than seeing the lack of security in the country, and "all his achievements for the country shut down."
Mubarak is also reported as expressing his concerns over the $4.8 billion IMF loan package that Egypt's government is currently negotiating, saying that its harsh conditions will be a threat to the economy.
"History will judge, and I'm still certain of the fairness of the coming generations towards me," added Mubarak.
Mubarak and his former interior minister Habib al-Adly were sentenced to life in prison for failing to prevent the deaths of over 800 protesters during the 18-day uprising that began on January 25, 2011.
An Egyptian court later accepted Mubarak's appeal and ordered a retrial. The retrial resumed on Saturday after a one-month hiatus, which was caused when the judge who was hearing the trial stepped aside moments after the first hearing started.
Source material can be found at this site.