Israel's ambassador to the United Nations, Ron Prosor, sharply reacted on Tuesday to remarks by PLO negotiator Saeb Erekat, who accused Israel of applying a policy of apartheid in Judea, Samaria and eastern Jerusalem.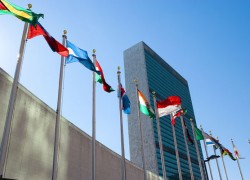 Erekat told a UN committee in New York on Monday that the Palestinian Authority would hold off on applying to UN agencies, as it is eligible to do since the General Assembly upgraded the PA to the status of non-member observer state, in order to give U.S. Secretary of State John Kerry's efforts to resume peace talks a chance to succeed.
He then went on to slam Israel over its construction in Judea, Samaria, and eastern Jerusalem, accusing it of being an apartheid state.
"Today in the West Bank, including East Jerusalem … I can sum up the situation with one word – apartheid. Worse than that which existed in South Africa," Erekat claimed, adding, "Today Israel justifies its apartheid by the term security."
In response, Prosor said, "It is expected from someone who is in charge of negotiating to educate for peace and not for incitement. Erekat claims to support the efforts of Secretary of State John Kerry, and at the same time presents a distorted reality which hurts the chances for peace."
He added, "The more the Palestinians continue to fertilize the soil with hatred toward Israel, the smaller the chances that the seeds of peace in the Middle East will sprout roots."
PA leaders have long accused Israel of "apartheid" policies, even though they themselves have clarified that if a Palestinian state is ever established, no Israeli citizen will be allowed to set foot inside.
At the same time they have demanded that Israel allow millions of Arabs who fled their homes in 1948 and their descendants to enter Israel as part of a peace agreement, one of the endless preconditions set by PA Chairman Mahmoud Abbas for talks with Israel.
Arabs living in Israel have the right to vote, serve in the Knesset, study in Israeli universities, share the same hospitals and public facilities, and work alongside Israeli Jews. PA residents, meanwhile, have perpetrated terrorist acts that have killed thousands of Israelis.
Source material can be found at this site.